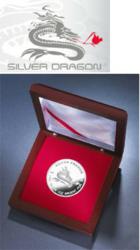 Silver Dragon Resources - Guardians of Hidden Treasures
Toronto, Ontario Canada (PRWEB) June 22, 2011
Silver Dragon Resources, Inc. (SDRG.OB) is structuring to be a model for the new global market in the world today. It is a US corporation with a corporate office in Canada and subsidiary offices in Mexico and China.
There has been a growing skepticism amongst some US investors about companies doing business in China primarily due to companies taking advantage of loopholes which exist in current regulations. This is the reason for the statement "It's a Global Economy; We Need to Get Over It!" states Alessandro Motta, Vice President, Investor Relations. Motta goes on to say "The few companies who are exploiting these loopholes and taking advantage of the system are ruining it for the rest of us. I have no problem stating this as we work hard to keep good books here and abroad and have them fully reviewed and audited by a North American (Certified and Qualified) auditor. These loopholes need to be shut down and deterrence from future exploitation should exist in order to allow for the honest majority to continue moving forward and be successful in this new economy."
As the globalization continues to consolidate the markets and technology continues to bring business and people together there is an ever growing trend for companies to match the needs of the new world market place. With this consolidation comes the even greater demand for natural resources and precious metals.
Companies must go to where the resources are and find the most cost effective and productive means to meet these demands. Silver mining is a perfect example of how it requires a new way of thinking and doing business even though at the current market value of silver being close to all time highs and demands are increasing it is most important to ally with the most strategic affiliates to be successful. Investment dollars are at an all time premium and the companies require the due diligence to provide the most cost effectiveness to bring profitability home to their contributors.
Every person who decides to put their hard earned and hard to come by money into any type of investments literally hopes and prays that they will have the opportunity to make good with that outlay. Everyone wants to support the home team and the best way to do that these days may just be to build a solid foundation from which growth is possible again.
Silver Dragon Resources Inc. is a mining and metals company focused on the acquisition, exploration, development and operation of silver mines in proven silver districts exclusively in China and Mexico.
Silver Dragon's objective is to acquire silver mining assets that contain promising exploration targets, have highly-leveraged, out-of-the-money silver deposits, and/or producing properties with significant untapped exploration potential. It is management's objective to grow Silver Dragon into a significant silver producer by acquiring properties in Mexico and developing its seven Erbahuo properties in China. Silver Dragon is preparing to participate in China's increasing demand for silver.
Silver Dragon Resources, Inc. is one of only three Western companies permitted and licensed to conduct silver exploration and mining in China.
For more information or an interview with Silver Dragon Resources, Inc. (SDRG.OB) please email or call for scheduling:
Marc Hazout, President & CEO
Alessandro Motta, Vice President, Investor Relations
info(at)silverdragonresources(dot)com
Toll Free (North America): 1-866-512-SDRG (7374)
416-223-8500 outside the US/Canada
Silver Dragon Resources, Inc. (SDRG.OB)
Silver Dragon Resources-Guardians of Hidden Treasures http://www.SilverDragonResources.com
Copyright © 2011 All rights reserved.
PR: http://www.MassMedia77.com
Safe Harbor Statement
This report includes forward-looking statements covered by the Private Securities Litigation Reform Act of 1995. Because such statements deal with future events, they are subject to various risks and uncertainties and actual results for fiscal year 2010 and beyond could differ materially from the Company's current expectations.
Forward-looking statements are identified by words such as "anticipates," "projects," "expects," "plans," "intends," "believes," "estimates," "targets," and other similar expressions that indicate trends and future events.
Factors that could cause the Company's results to differ materially from those expressed in forward-looking statements include, without limitation, variation in demand and acceptance of the Company's products and services, the frequency, magnitude and timing of paper and other raw-material-price changes, general business and economic conditions beyond the Company's control, timing of the completion and integration of acquisitions, the consequences of competitive factors in the marketplace including the ability to attract and retain customers, results of the MyC3 initiative and other cost-containment strategies, and the Company's success in attracting and retaining key personnel. Additional information concerning factors that could cause actual results to differ materially from those projected is contained in the Company's filing with The Securities and Exchange Commission. The Company undertakes no obligation to revise or update forward-looking statements as a result of new information since these statements may no longer be accurate or timely.
Analysts' Compensation: Mass Media 77, Inc. who in part or in whole may be responsible for the preparation of this report may receive compensation based upon various factors, including the quality and accuracy of research, client feedback, competitive factors, and overall firm revenues, which include revenues from, among other business units, Institutional Equities and Investment Banking and restricted stock.
Information has been obtained from sources believed to be reliable but Mass Media 77, Inc or its affiliates and/or subsidiaries (collectively Mass Media 77, Inc.) do not warrant its completeness or accuracy. Opinions and estimates constitute our judgment as of the date of this material and are subject to change without notice. Past performance is not indicative of future results. This material is not intended as an offer or solicitation for the purchase or sale of any financial instrument. The opinions and recommendations herein do not take into account individual client circumstances, objectives, or needs and are not intended as recommendations of particular securities, financial instruments or strategies to particular clients. The recipient of this report must make its own independent decisions regarding any securities or financial instruments mentioned herein. Periodic updates may be provided on companies/industries based on company specific developments or announcements, market conditions or any other publicly available information. Additional information may be available upon request.