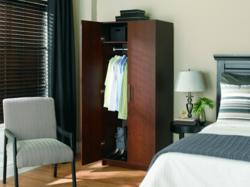 Shopping online for furniture can be difficult from the mega-stores," says Paul Byrne, President of Razoyo. "itSara relieves that frustration by allowing customers to interact with knowledgeable, live customer service representatives
Dallas, TX (PRWEB) September 26, 2012
Dallas-based eCommerce consultancy, Razoyo, announced the official launch of their latest client web store, itSara.com. Now online shoppers can organize their entire house with furniture that is both stylish and practical. To announce the grand opening, the web store is offering a 5% off promotion through October 15th (coupon code: grandopening).
Unlike most online furniture stores, itSara.com's online shopping experience allows customers to discuss their buying choices with a real person via chat or over the phone. itSara customers also get free shipping every time they shop online, regardless of the order size.
"Shopping online for furniture can be difficult from the mega-stores," says Paul Byrne, President of Razoyo. "itSara relieves that frustration by allowing customers to interact with knowledgeable, live customer service representatives via chat, phone or email. Not sure about how you are measuring your product? Need some help with assembly? If the itSara team can't answer your question, they can get you in touch with an expert."
The web store is curated by Sara, an energetic, stylish, globe-hopping young woman who has a passion for having just the right furniture to organize her home. Sara travels the globe looking for fun and comes back with ideas on how to make her home cozier and more efficient.
The store features a product line of furniture from top manufacturers like Black and Decker's garage solutions and Talon's closet organizers. itSara.com offers products for the bedroom, laundry, closet, garage, living room, kitchen, and office.
About itSara
Established in 2012, itSara is an authorized online seller of top manufacturer furniture products like Black and Decker, Talon, and Akada Home.
About Razoyo
Established in 2012, Razoyo is an eCommerce consultancy serving the needs of small and medium-sized web stores. They provide web store setup and management, technical services, online training, and consultation.