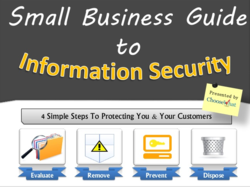 Hacking has also gone from a black art to an easy diversion, practiced by thousands of miscreants and aided by publicly-available tools and utilities. - David Chang, FindAFax.com
Austin, Texas (PRWEB) May 22, 2013
ChooseWhat, the online resource for entrepreneurs and small businesses, released a "Small Business Guide to Information Security" to help business owners easily navigate the ever-changing risks associated with your company's sensitive information. Security breaches have been on the rise in the last few years, but lately have increased in the small business community. According to a recent survey by the UK Department for Business Innovation & Skills, 87 percent of small businesses had a security breach in the last year. This is mostly due to the fact that most small businesses do not have sufficient security awareness training and protocol. In fact, over half of the companies that experienced security breaches claimed they were due to staff-related incidents.
"Hackers have elevated their standards, and while breaking into your computer is nice, breaking into your server is that much sweeter — with much more bandwidth, storage, visibility, and potentially valuable content. Hacking has also gone from a black art to an easy diversion, practiced by thousands of miscreants and aided by publicly available tools and utilities. You should be ready for a security breach, just like any other disaster that might befall your business." – David Chang, security expert and digital strategist at FindAFax.com
ChooseWhat.com Aims to Help Small Businesses Succeed with New IT Security Resource
Geared toward the busy small business owner, ChooseWhat has presented an easy step-by-step process for practicing proper IT security in your company. The guide covers physical and digital security and helps companies evaluate current security risks, remove these risks, prevent further risks and of course how to dispose of the sensitive information once it is no longer needed. In addition to the four-step process, ChooseWhat has included security software recommendations that can be accessed directly from the guide. These recommendations cover secure online shopping, online payroll, password management services, secure online backup, hard drives with an "auto-destroy" feature, security essentials for portable electronics, and secure online fax plans.
More about ChooseWhat.com
ChooseWhat is a resource website for small business owners and new entrepreneurs. Our website offers an in depth startup guide to walk entrepreneurs through the process of starting their own business. People are often unsure of how to translate a great business idea into a successful project. We provide a simple step-by-step guide for setting up a small business, reviews and cost comparisons for some of the best small business infrastructure tools, and forum for entrepreneurs to get expert advice on their more specific questions or concerns. Learn more at http://www.ChooseWhat.com/.
###