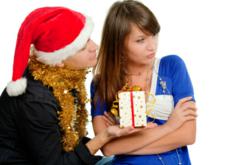 "Anything one does feels as though it may make a greater statement on the holidays."
Washington, DC (PRWEB) December 19, 2011
The holidays can be a high-pressure time for any couple, but it's even more trying for those that are celebrating with each other for the first time ever. "The more recent the union, the more hesitancy there is about the dos and don'ts," says Krista White, President of specialty dating service It's Just Lunch in DC . Christmas and Hanukkah land mines include whether you should bring your significant other over to your Mom's house, and what to spend on a present. "Anything one does feels as though it may make a greater statement on the holidays."
Bringing your +1 over to Dad's to schmoose with your relatives is predicated on two main parameters: 1) The length of time you have been seeing one another and 2) Just how close you live to your immediate family "Let's say the two of you have been seeing each other for less than 90 days, in this scenario, you are safe doing activities with friends. When it comes to meeting the family, you should limit your time to dessert and coffee only!" explains Krista. "After That 90 day mark, eating a complete meal and then some, with your family, is just fine." Long distance travel outside of the DC, MD or VA tri-state area requiring an overnight stay should be reserved until you've been together for at least 6 months. "Traveling prematurely is a no-no, as it makes a pretty grand statement," says Krista.
Now let's tackle the gift spend. This is another booby-trap that involves the length of time you have been together. At less than 10 dates, the gift should be low-key, but very thoughtful. Krista thinks that "Baked home-made goods, a fantastic book, or great champagne are all appropriate at this juncture in the relationship."
Between 90 and 150 days, you can get a bit more elaborate. "Choose a gift you just know they will truly like, but don't go too far overboard. Surely one may find a treasure your date will enjoy for $125 or less."
At 6 months, you should feel comfortable spending the amount you are comfortable with. "When you have both been seeing each other for half a year, you should feel close. Celebrate each other by spoiling him or her and buying gifts that exemplify just how well you understand one another.
More holidating advice is available in The It's Just Lunch Guide to Dating (10 Finger Press). It's Just Lunch is a personalized dating service for busy professionals. The company has coordinated over two million dates for clients since opening in 1991. IJL minimizes the stress and maximizes the efficiency of dating by sending people on casual, no-pressure dates over lunch, brunch or drinks after work. IJL's team of dating specialists, not a computer, perform the matchmaking. The company has over 150 locations in the US, Canada and internationally.
For more information about IJL or this and other dating story angles, please contact Krista White at 202-466-6699 or Krista(at)YourDatingDiva(dot)com.
###