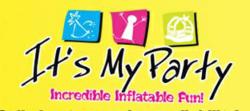 BATON ROUGE, LA (PRWEB) December 31, 2012
For those suffering from holiday shopping boredom and seeking a new and adventurous gift the cure may be as close as the computer keyboard. Finding that the gifts on the list this year looked much like the gifts on the list from last year? Has gift giving become a glaring reminder from the Ghost of Christmas Past?
Change things up this holiday season with a new holiday gift giving idea from the Ghost of Christmas Future! Visit Itsmypartyla.com and restore the fun in holiday gift giving and receiving.
"It's My Party" is Baton Rouge's Premier Indoor Inflatable Playground. These aren't just bounce houses, but rather huge indoor playgrounds featuring inflatable games like a 24-foot-high slide, 70-foot obstacle course and assorted bounce houses perfect for Birthday Parties, Team Events, Lock-Ins and Field Trips. These inflatable playgrounds provide fun, safe and active parties without any effort and no mess at the house.
This 2011 Baton Rouge Parents Family Favorite award winner is currently offering a Christmas Holiday Camp deal beginning Thursday, December 20, 2012 and lasting through Friday January 4, 2013. Camp is open from 7:30 am thru to 5:30 pm and parents can pay for a whole day or a half day. Been wondering what to do with the kiddies before or after Santa arrives? Christmas Holiday Camp might just be the ticket to holiday bliss for a day.
And for those hard to shop for youngsters on the list who have everything, ItsMyPartyLA.com now offers consumers the online purchase of gift cards options. Imagine the wonder and surprise in their eyes when they receive a day of play at It's My Party. This LPB Kid's Club Favorite Party Place Award Winner is sure to be a hit with any child on the family gift list.