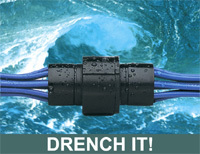 Philadelphia, PA (PRWEB) April 6, 2010
Available for shipping the same day from stock, the Sure Seal connectors feature a tough, injection-moulded PVC body with multiple moisture seals and can accommodate up to ten crimp contacts with current ratings as high as 85A.
These robust connectors have an operating temperature range of -40 to 105degC, a maximum contact resistance of 10mohms, a minimum insulation resistance of 100Mohms and a dielectric withstand voltage of 1200V AC.
Originally developed for use in automotive applications, the Sure Seal connectors have been thoroughly tested to verify not only their electrical performance but also their resistance to water, oils, salt spray, ozone and ultraviolet light and their ability to withstand shock, vibration and mechanical forces. Sealing meets the requirements of IP67 and DIN 400 50, and the connectors are listed by both UL and CSA.
With their one-part molded body and removable crimp contacts, the connectors are designed for quick and easy termination by the user. They are available in plug, flanged plug and receptacle styles and incorporate a polarisation feature to prevent mismatching of connector halves.
To complement the Sure Seal Connectors, Pei-Genesis offers a comprehensive range of tooling and accessories, as well as an optional cable overmolding service.
Samples of the Sure Seal connector are available by visitng Sure Seal Samples page on our website.
###