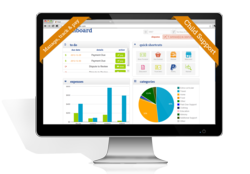 "We want to make it easy for all parents to save time, money and reduce stress when it comes to managing child related expenses." said Sheri Atwood, Founder and CEO of Ittavi.
Santa Clara, CA (PRWEB) January 07, 2013
Ittavi announced today the beta availability of Ittavi Child Support Manager, an unique and innovative web application, built specifically for parents paying or receiving child support. This new patent-pending online service is designed to help parents, who are paying or receiving child support, to quickly and easily manage, document and exchange child support related payments and information.
In the U.S. alone, there are 39 million parents (1) who exchange over $200 billion in child support (2). However, once a court order or agreement has been established, parents are left to figure out how to manage the process on their own. Child Support is not simply a one-time monthly payment. Child support expenses are typically divided into two distinct categories: base support and incremental or additional expenses. Base support is typically a standard amount every month meant to cover basic living expenses. Divorced, separated or blended families also share the responsibility for incremental or additional expenses necessary to raise a child. These may include costs associated with health care, education, childcare or other child related expenses. The process of managing child support today is time consuming, costly and prone to cause conflict between parents due to the strain of negotiating and sharing in a potentially long list of expenses.
With Ittavi's Child Support Manager, a parent can easily enter a child support expense and upload a receipt. Ittavi Child Support Manager will calculate the amount owed by each parent and send automatic notifications. Once the other parent receives a notification they can easily review the expense and receipt. If the parent agrees with the expense, they are able to make a payment in the system and Ittavi handles the rest. If the parent does not agree with the expense, then that parent can start a dispute process, tracking all communication in Ittavi Child Support Manager. Ittavi Child Support Manager becomes the one place where parents can manage and track expenses, as well as communicate and store any documents related to child support for their children.
The only offering for complete child support expense management
Considering that there are almost 300 million parents worldwide (3) faced with child support related responsibilities, there is no standard tool that exists today to help parents manage these expenses in an effective manner. Most times, when the term "child support" is mentioned, people automatically associate the term with those who are not paying child support. However, according to data from the Office of the Administration for Children and Families, Organization for Economic Cooperation and Development and the US Census Bureau, there is over $990 billion dollars worldwide (4) exchanged every year between parents for child support. These parents are forced to understand and manage the complex process, whether an amicable or contentious relationship exists with the other parent. For single, divorced or separated parents and blended families, Ittavi now provides a standard process and system for managing the demands of child support.
"When parents are trying to balance the demands of children, work and home, it is definitely a challenge to stay on top of child support payments. This is why Ittavi developed Child Support Manager. We want to make it easy for all parents to save time, money and reduce stress when it comes to managing child related expenses." said Sheri Atwood, Founder and CEO of Ittavi. "We are very excited to announce the general beta availability of Ittavi Child Support Manager. Our child support expense management and bill payment system helps parents manage, track and pay child support expenses so they can spend more time on what matters most, being the best parent they can be."
Parents who use Ittavi Child Support Manager are seeing results immediately. "After using Ittavi for a few months, I have saved a ton of time and money. I have noticed a large decrease in the number of disagreements my ex-husband and I get into when it comes to child support issues." said Michelle Vargas, divorced mother of 4. "I have no problem paying for expenses for my children but I want to know that the money I am sending is going to my children. Ittavi provides a way for my ex-wife to submit an expense and attach a receipt. It provides me the transparency I need when it comes to understanding where my child support money is going." said Gabe Vargas, divorced father of 4.
Free access to Ittavi Child Support Manager
Ittavi is currently accepting beta customer requests. Any person who becomes a beta customer will receive 6 months for free when Ittavi Child Support Manager is released for general availability. If an user prefers to wait for the general availability release, they can place their name on the waitlist and receive 3 months for free when Ittavi Child Support Manager general release is available later this year. Interested customers are invited to join the beta program or add their name to the waitlist by registering at http://www.ittavi.com/contact/request-access.
For additional information regarding Ittavi Child Support Manager, please visit http://www.ittavi.com.
About Ittavi
Ittavi, an acronym for "it takes a village", seeks to revolutionize family financial management by creating simple yet effective software to help single, divorced, separated and blended families manage their financial relationships.
Data sources:
(1) US Census Bureau. Families & Living Arrangements. US Census Bureau: census.gov/hhes/families/
(1) Children & Well Being. Retrieved from US Census - Children: census.gov/hhes/socdemo/children/data/sipp/well2009/tables.html
(2) Custodial Mothers & Fathers and Their Child Support: 2007. (2009, November). US Census Report: census.gov/
(2) US Census Bureau. Families & Living Arrangements. US Census Bureau: census.gov/hhes/families/
(3) Worldwide Child Support Statistics. Retrieved from Organization for Economic Cooperation & Development: oecd.org/social/familiesandchildren/
(4) US Census Bureau. Families & Living Arrangements. US Census Bureau: census.gov/hhes/families/
(4) Worldwide Child Support Statistics. Retrieved from Organization for Economic Cooperation & Development: oecd.org/social/familiesandchildren/