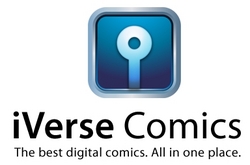 We're very proud of the new reading experience.
Waco, TX (PRWEB) September 2, 2009
Today, iVerse Media is proud to announce the release of "iVerse Comics" for Apple's iPhone and iPod Touch platforms. The new application is a comic book store in your pocket, featuring titles from the best independent publishers in the comic book industry.
"There is no better selection of digital comics in the App Store," said iVerse CEO Michael Murphey. "and our catalog is constantly growing, with many new publisher partners coming on board over the next few weeks. It's a very exciting time for our company."
iVerse Media launched on the iPhone in the fall of 2008, and was the first company to adapt comic books for the iPhone screen in a widescreen format. Since that launch more than one million digital comics have been downloaded from iVerse, making the "widescreen" format for digital comics a growing industry standard. With the launch of "iVerse Comics" the company has enhanced this to include the original page layouts, creating a new reading experience.
"We're very proud of the new reading experience." said iVerse CTO Derek Stutsman. "The reader feedback has been great, and we feel that the original page layouts were the one element that was missing to make this the perfect comic book reading experience on a mobile device."
The new "iVerse Comics" application features both a fully functional in-app store with a user interface that iPhone fans should be familiar with, along with a collector's shelf, coverflow, and a list view for users to keep track of their ever growing digital comic book collection.
The Application costs $0.99 and comes with 30 free comics from top Independent Publishers and iVerse is guaranteeing new comics will be released every week. You can download "iVerse Comics" in the iTunes App Store now. For more information about the application visit iVerseMedia.com
###