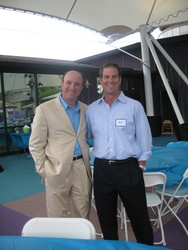 Dr. Leondires [of RMACT] gave us the best care and support that any couple could find
Norwalk, CT (PRWEB) September 15, 2009
Reproductive Medicine Associates of Connecticut (RMACT) fertility clinic and egg donation center announces their third "baby party," to be held at Stepping Stones Museum in Norwalk, CT. The party, a reunion of sorts, celebrates RMACT's impact in helping to create families throughout Fairfield, Westchester and surrounding counties. Since established in 2002, RMACT patients successfully fulfill their dream of becoming parents.
"Today is a reminder that we work in a special field and helping to grow people's families is an honor," said Dr. Mark Leondires, Medical Director at RMACT, which specializes in the treatment of infertility. "This celebration brings meaning to the science we practice in medicine on a daily basis. It is both inspiring and rewarding to spend time with our patients and their children."
Over one thousand parents and children were invited to celebrate with the staff of RMACT, which includes four board-certified fertility doctors, a physicians assistant, embryologists, andrologists, nurses, medical assistants and patient care coordinators. The party brings together families to enjoy dinner and the newly expanded Stepping Stones Museum exhibits and play areas. RMACT will have New York Life's Child ID program on hand for those interested in enrolling their children and a special visit from the Norwalk Fire Department sure to bring a smile to many little faces.
"You gave us the chance to become a mother and father, and we will be forever grateful," says J.N. of Stratford, CT (patient requested to remain anonymous). "Your encouragement, patience, knowledge and magic are what brought our son to us. He is truly a miracle and we have you to thank."
RMACT believes in individualized holistic patient care; RMACT doctors create a custom fertility treatment plan for each patient, which may include an array of RMACT services such as support groups, couples counseling, in-vitro fertilization (IVF) financing, yoga classes and traditional and laser acupuncture. RMACT has a greater than 70 percent singleton pregnancy rate and surpasses the national average for IVF outcomes (source: http://www.SART.org). Singleton pregnancies are the goal in fertility therapy because multiples (e.g., twins, triplets) can lead to complex pregnancies and deliveries for both the mother and babies.
At RMACT patients experience complete care, including tools to reduce stress while trying to conceive. As part of this, they limit wait times for appointments and each patient works with a patient coordinator to make appointments and ensure complete understanding of fertility treatment.
"Dr. Leondires [of RMACT] gave us the best care and support that any couple could find," says C.S. of Newburgh, NY (patient requested to remain anonymous). "What stands out the most to us is the time he took to explain, often with great detail, exactly what was happening and making us comfortable with the treatment we sought. It is not only the doctors that make a difference, but the staff as well. My patient care coordinator and nurse quickly got to know me. They made sure all of our needs, including my emotional ones, were met… Every time I look into my son's eyes, I am reminded of the hard work and dedication it took to help create him."
To further help couples, RMACT addresses the recent increase in financial worries, especially for those without health insurance. These patients can opt to take part in RMACT's Opportunity Plans, which are unique service and payment plans for fertility treatment plans, including Intrauterine Insemination (IUI) and In Vitro Fertilization (IVF). RMACT also accepts most insurance plans.
With offices in Norwalk, Danbury and Greenwich, CT, and an affiliate office in Rye, NY, our team of Board-Certified Reproductive Endocrinologists offer a wide range of infertility treatments from basic fertility services including ovulation induction and intrauterine insemination (IUI) to the most advanced assisted reproductive technologies including In-Vitro Fertilization (IVF), Egg Donation and Preimplantation Genetic Diagnosis (PGD). The RMACT physician team includes, Dr. Mark P. Leondires, Dr. Spencer S. Richlin, Dr. Joshua M. Hurwitz, and Dr. Cynthia M. Murdock. All physicians are members of the American Society for Reproductive Medicine (ASRM), the Society for Assisted Reproductive Technology (SART) and the Fairfield County and Connecticut Medical Societies. RMACT's IVF laboratory is accredited by the College of American Pathologists (CAP), and CLIA; other accreditations include the Accreditation Association for Ambulatory Health Care (AAAHC) and the American Institute for Ultrasound in Medicine (AIUM). RMACT offers individualized treatment plans in a patient-focused and supportive environment. Support services, such as, psychological counseling, acupuncture and yoga are also available. For more information visit, http://www.RMACT.com.
# # #