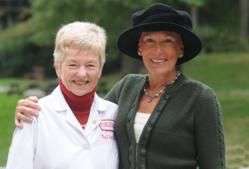 As a breast cancer survivor I could not be more enthusiastic about this fundraiser.
(PRWEB) October 18, 2012
The fertility experts at IVF New Jersey Fertility Center are inviting everyone to "Like" their Facebook page during the month of October in honor of National Breast Cancer Awareness Month. For each Like, they will donate $1 towards breast cancer research at Fox Chase Cancer Center. With their inspirational dedication toward giving hope to women, IVF New Jersey has helped bring thousands of babies to couples over the past 22 years. Now, with the help of their social media fans, they are excited to have the opportunity to bring hope for a cure to women who have been diagnosed with breast cancer.
"As a breast cancer survivor I could not be more enthusiastic about this fundraiser," says Jane Tervooren, Director of Marketing for IVF New Jersey. "Knowing that people I have never met are doing their part to raise money and awareness for breast cancer research means the world to me. Clicking on a Like button takes such little effort, but it really does make a big difference. For those who are fighting breast cancer right now, I want them to see that there is hope and that companies like IVF New Jersey are cheering them on, just as they did for me when I was fighting this disease."
All of the proceeds will go to breast cancer research efforts at Fox Chase Cancer Center in Philadelphia, PA, which is the nationally ranked Best Hospital for Cancer by U.S. News and World Report, and is where Jane was successfully treated. Fox Chase Cancer Center, part of the Temple University Health System, is one of the nation's first cancer hospitals. Fox Chase was also among the first institutions to be designated a National Cancer Institute Comprehensive Cancer Center in 1974. Fox Chase researchers have won the highest awards in their fields, including two Nobel Prizes.
According to the American Cancer Society, the most recent estimates for breast cancer in the United States estimate that there are about 226,870 new cases of invasive breast cancer in women and about 39,510 deaths from breast cancer in women. The National Breast Cancer Awareness Month (NBCAM) campaign is a national effort on behalf of public service organizations, professional medical associations, and government agencies, as well as thousands of other people and companies who volunteer to promote breast cancer awareness.
Anyone with a Facebook account can visit the IVF New Jersey Fertility Center fan page and click the "Like" button. Each Like during October will drive up the charitable donation being made. The staff at IVF New Jersey knows that dealing with a breast cancer diagnoses requires more than the best physician – it requires an international cheering session, sincere and supportive resources, hugs, funding and more. Their hope is that this campaign will add to the symphony of voices circling around this cause this month and that their funds, like their fertility services, will make a difference in women's lives.
About IVF New Jersey Fertility Center:
IVF New Jersey was founded in 1990 with the goal of creating a fertility practice that combines the best of big-city medicine with the personalized care of a private setting. For the past 22 years, IVF NJ has helped bring thousands of babies to couples in the metropolitan region and throughout the world. IVF NJ's unique cutting-edge facilities allow the physicians to perform all standard infertility diagnostic and treatment procedures under one roof, all in a comfortable, suburban, non-hospital setting. IVF NJ is one of the largest fertility centers in the nation with some of the highest success rates in the U.S. according to the Center for Disease Control (CDC). For more information visit http://www.ivfnj.com.