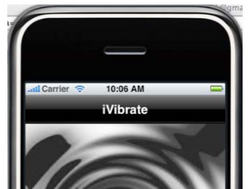 I designed the app for both men and women. From sore shoulders to cramped calves or as a pleasant diversion, this vibrating download is a downright winner
San Diego, CA (PRWEB) February 24, 2009
Apple iPhone users have an easy way to relax, relieve tension and massage achy muscles with Marker Company's iVibrateMe application. Stressed-out, bored or just fun-loving men and women can now turn their cell phone into a personal massage vibrator for under a dollar. With over 15,000 apps in the App Store, the iVibrateMe would be Agent Maxwell Smart's No. 1 pick--it's both inconspicuous and useful.
This lifestyle app takes full advantage of the phone's vibrating features. iVibrateMe was developed by Marc Perlman, CEO of Marker Company, a real estate and investing firm based in the north coastal community of Solana Beach, California. As an iPhone enthusiast, Perlman was one of the millions first in line for the 3G launch. Once he started downloading applications, he challenged himself to come up with an everyman / everywoman application. With an idea and time on his hands, Perlman developed an iPhone vibrator. The user's entire phone steadily vibrates until they turn it off, or they take an important call.
"I designed the app for both men and women. From sore shoulders to cramped calves or as a pleasant diversion, this vibrating download is a downright winner," said Perlman. "You have to love iPhone's multi-touch interface--perfect for anywhere, anytime phone add-ons. One of my happy customers wrote, 'This is an amazing application. My girlfriend uses my phone more than I do.'"
To get yours or for more information go to: http://www.apple.com/iphone/appstore
About Marker Company
http://www.markercompany.com
Founded in 2002, Marker Company is a real estate developer / investment firm specializing in Southern California real estate opportunities. CEO, Marc Perlman brings a wealth of knowledge to his primary business. Yet, his interest in computer software development and high tech gadgets spurred him on to delving into Internet applications. The iVibrateMe is the first of a number of apps in development.
###