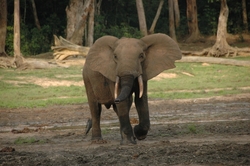 It's crucial that central and western African nations suppress the brazen poaching, mainly fueled by organized crime and illegal ivory markets openly operating within their borders before any further ivory sales take place
Washington, DC (Vocus) March 23, 2010
Requests from Zambia and Tanzania to hold one-off sales of their ivory stockpiles failed during a United Nations species trade meeting today that comes during a worldwide poaching crisis.
Governments participating in the United Nation's Convention on the International Trade of Endangered Species of Fauna and Flora (CITES) rejected proposals by Tanzania and Zambia to relax trade restrictions on their elephant populations by moving them from Appendix I -- the highest level of protection under the Convention banning all international commercial trade -- to Appendix II.
The two countries had also initially asked that they be able to hold a one-off sale of their ivory stockpiles. No commercial ivory sale is permitted if elephants remain in Appendix I, but an Appendix II listing allows some regulated international commercial trade.
Neither country was given permission to sell their ivory at this stage or relax trade controls on their elephant populations. The decisions come amid a poaching crisis destroying elephant populations in Asia and Africa.
"WWF and TRAFFIC believe the main factor behind the ongoing elephant poaching is the continued existence of illegal ivory markets across parts of Africa and Asia," said Crawford Allan of TRAFFIC, the wildlife trade monitoring network of WWF and International Union for Conservation of Nature (IUCN).
Data from the Elephant Trade Information System (ETIS) presented at this meeting showed that illicit trade in ivory has been increasing in volume since 2004 and moved sharply upward in 2009. A significant correlation continues between large-scale domestic ivory markets in Asia and Africa and poor law enforcement, suggesting that illicit ivory trade flows typically follow a path to destinations where law enforcement and market regulations are weak.
According to new data released today from park rangers and WWF field staff on the ground in Cameroon, there has been a recent increase in poaching and use of high-powered weapons.
In February, two unarmed game guards and 14 elephants were gunned down in Bouba Ndjidda National Park in northern Cameroon. During the past few months at least 40 elephants in and around protected areas were killed for their ivory and it is estimated that about 400 elephants have been killed within the last four years in three national parks in Cameroon alone.
"It's crucial that central and western African nations suppress the brazen poaching, mainly fueled by organized crime and illegal ivory markets openly operating within their borders before any further ivory sales take place," said Sybille Klenzendorf, Managing Director of Species Conservation at WWF-US. The sight of ivory openly on sale in many cities of Central and Western Africa sends a potent signal to poachers, smugglers and consumers that it is legal to buy and sell unregulated ivory.
ABOUT WORLD WILDLIFE FUND
WWF is the world's leading conservation organization, working in 100 countries for nearly half a century. With the support of almost 5 million members worldwide, WWF is dedicated to delivering science-based solutions to preserve the diversity and abundance of life on Earth, halt the degradation of the environment and combat climate change. Visit http://www.worldwildlife.org to learn more.
ABOUT TRAFFIC
TRAFFIC, the wildlife trade monitoring network, works to ensure that trade in wild plants and animals is not a threat to the conservation of nature. TRAFFIC is a joint program of IUCN and WWF. Visit http://www.traffic.org to learn more.
###