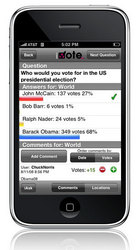 Really nice little app. Simple in it's execution. Addictive as heck. I'll be voting at least once a day, I'm sure.
Loveland, Colorado (PRWEB) August 22, 2008
The world's first poll of Apple iPhone users revealed an Obama-heavy bias as hundreds of people sought to make their opinion known via iVote Mobile, a free application developed by InfoMedia Inc. now available in the iTunes App Store for Apple iPhone and iTouch owners.
Asked "Who would you vote for in the US Presidental Election," users were able to choose from Barack Obama, John McCain, Bob Barr and Ralph Nadar. With thousands of users downloading and using the iVote Mobile polling and social networking application on the first day of its release, Obama has a decisive lead over McCain.
Using the revolutionary location awareness system built into the iPhone, iVote Mobile is able to relate poll data and subsequent discussions to geographic location on a global, national, regional and local basis. When taking the entire world's opinion into consideration, iVote users put Obama ahead by 42 points. And while Oklahoma users still have McCain with a slight majority, swing states such as Colorado and Florida remain very close.
"The iPhone has opened up new opportunities to engage public opinion and assimilate data faster than ever before." says InfoMedia, Inc. CEO Joel Comm. "With iVote Mobile, we are now able to survey the world and receive feedback as quickly as we are able to post questions." Comm continues, "iVote Mobile presents questions on a number of topics related to politics, current events, entertainment, sports and lifestyle, providing all users with an opportunity to share their opinion and interact with other users."
iVote Mobile appeared on the iTunes App Store on August 20th and is quickly moving up the popularity charts in the social networking category. With a 4 1/2 star rating on iTunes, public opinion is very positive and the application has been well received. Comments include, "Really nice little app. Simple in it's execution. Addictive as heck. I'll be voting at least once a day, I'm sure.", "This is a really cool app. Can you imagine being part of the pulse of America with timely questions? Brilliant idea. The app works flawlessly, by the way!", and "This is a great app to keep your pulse on what people are thinking. I love the interface! Keep the polls coming!"
Users are encouraged to submit questions of their own for possible inclusion by clicking the "iAsk" button within the application or filling out the form on the iVote Mobile web site at http://www.ivotemobile.com
iVote Mobile is a free application in the Apple iTunes App Store accessible by anyone owning an Apple iPhone or iPod Touch music player. More information is available on the iVote Mobile web site at http://www.iVoteMobile.com.
InfoMedia, Inc. is Loveland, Colorado-based new media and marketing company focused on exploring technology for business and consumers. Providing a thirteen-year track record of building profitable Internet sites and software, InfoMedia leads the way in innovative, entertaining and educational uses of the Internet. For more information or interviews, contact Joel Comm at 970-278-0011.
###