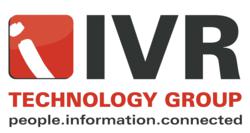 results are not influenced by a live agent and we can quickly feedback results in the form of alerts so our clients can correct or adjust agent performance near real time
Buffalo, New York (Vocus/PRWEB) February 10, 2011
IVR Technology Group has successfully deployed pre and post call applications to help teleservice operations collect non-bias feedback regarding customers interaction with their agents and overall contact satisfaction. Through a hosted application, IVR Technology Group engineers a call path to receive calls from the call center to interact with the end customer to provide a quick post call survey. The results of the survey are tallied and presented via a secured portal back to the client with, as an option, alerts built in to report low scores so corrective action can be taken immediately. "Our clients appreciate the speed in which we can set up and go live with this survey process" says John Crouthamel of IVR Technology Group. "Further, by using our iCAN automated applications, the results are not influenced by a live agent and we can quickly feedback results in the form of alerts so our clients can correct or adjust agent performance near real time and of course, we are providing this service at a great cost savings as compared to live survey processing."
"These post call surveys were added to our interactive suite of iCAN services as we continue to invest in building state-of-the-art applications that compliment live human interaction" states Mike Byrne of IVR Technology Group. "We've had excellent feedback resulting in a building base of clientele signing up for post call surveys. We are also excited that the input we have received has allowed us to further develop and enhance this very important tool for our clients" continues Byrne.
Recently IVR Technology Group announced the deployment of iTEXT – an SMS / Text Messaging application. The post call survey will soon be released as an application of iTEXT allowing customers to use their cell phones to text to participate in a post call satisfaction surveys.
About IVR Technology Group
IVR Technology Group provides businesses a suite of phone automation services to enhance customer conversations, drive sales and lower costs. Leveraging IVR Technology Group's easy-to-use services, business users, marketers and developers can quickly create solutions ranging from simple call routing solutions to advanced interactive voice response systems. For more information, visit http://www.IVRTechGroup.com or contact John Crouthamel at 877-664-2887.
###