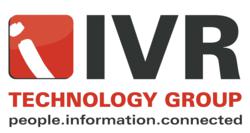 emphasis on solution building
Buffalo, New York (PRWEB) December 08, 2011
"IVR Technology Group has invested in a new look, new web site, and a renew focus on our core business offerings." commented ITG's CEO Mike Byrne. "We worked hard to clearly state and position our service capabilities while engaging the visitor in our site. This project has been a number of months in the making, so it is a good feeling to be able to announce the re-launch of our site and indeed our business."
IVR Technology Group creates, manages and supports hosted services for web, telephone, texting and all forms of unified communications. The move to a new color scheme and log completes the re-launch of the business. "We've looked to line up our web presence, our look and feel along with our colors to represent the crisp, clean, aggressive positioning of our services that also represents our company culture." stated John Crouthamel of IVR Technology Group. "As we move forward, continued emphasis on 'solution building' will be foremost in our offering - which is engrained in our company philosophy here at ITG." continued Crouthamel.
About IVR Technology Group
IVR Technology Group provides businesses a suite of phone automation services to enhance customer conversations, drive sales and lower costs. Leveraging IVR Technology Group's easy-to-use services, business users, marketers and developers can quickly create solutions ranging from simple call routing solutions to advanced interactive voice response, cloud based applications and virtual support systems. For more information, visit http://www.IVRTechGroup.com or contact John Crouthamel at 877-664-2887.
###