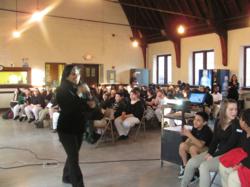 I am [anticipating] that [the Program] will educate our students to become anti-bullying warriors...[by] reflecting on their words and actions before they hurt someone." - Kristen Tokarz, Counselor, Spirit of Knowledge
Worcester, MA (PRWEB) April 19, 2012
Ivy Child International, a nonprofit that practices cross-cultural positive psychology to help children, families and communities across the globe, is partnering with the Spirit of Knowledge Charter School, Worcester, MA to conduct an eight-week anti-bullying program for ninth and tenth graders from April 24 – June 15, 2012.
This workshop series, to be run by a trained youth facilitator and Ivy Child founder, Rose Pavlov, will use multimedia tools to teach teens mediation, constructive communication, creative problem solving and group decision making skills. Mild to severe bullying behaviors, in-school action plans and successful nationwide campaigns will be covered through the series.
Statistics on bullying, like data provided by the National School Safety Center, reveal that American schools harbor approximately 2.1 million bullies and 2.7 million of their victims. Ivy Child's Bullying Prevention and Leadership program has been developed in response to the increasing incidents of school violence, relational aggression and cyber bullying among youth across the country.
"As a start-up charter school [catering to the needs] of an underserved community, outside resources are vital for both our students and school to thrive. I am [anticipating] that [the Program] will educate our students to become anti-bullying warriors...[by] reflecting on their words and actions before they hurt someone," says Kristen Tokarz, a counselor at the Spirit of Knowledge Charter School.
Spirit of Knowledge is a STEM (Science Technology Engineering Math) school that fulfills a critical need for its largely at-risk, low-income student population to gain an academic advantage that would otherwise be impossible.
This is the second installment of the Ivy Star Certificate Series™ premier programs to be launched in 2012. The other two programs, Yoga and Mindfulness for Kids and Multicultural and Music Education, teach self-awareness and resilience, and cultivate cross-cultural understanding in schools, after-school programs and community centers. For details on programs: http://ivychild.org/programs
To schedule an interview with Rose Pavlov, please e-mail: rpavlov(at)ivychild(dot)org.