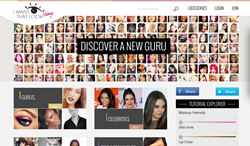 'We want to help our users find new and exciting beauty gurus, so we focused our new design around the exploration process and introducing people to the up and coming gurus,' says Joe Ghartey (co-founder)
New York, NY (PRWEB) August 30, 2014
Finding the right beauty guru that matches your taste in makeup or style can be difficult. It's hard to just find a list of gurus to explore, and even harder to discover new ones without randomly clicking through related videos on youtube. IWantThatlook.com has made the process fun again with the release of its redesigned and enhanced website.
The website has over 15,000 beauty gurus with simple filters that allow users to search by makeup intensity or skin tone. If you want to find a rising star or a newbie with under 10,000 subscribers, it's as easy as sliding a filter or clicking a category. IWantThat Look.com is also now doing interviews and profiles of up and coming beauty gurus to help users explore and discover the next Youtube super stars like Michelle Phan.
IWantThatLook.com simplifies the search process by curating thousands of videos and providing innovative filters like skin tone, style, colors, and makeup intensity. It allows users to narrow down the results of their search and see only the videos that matter to them. IWantThatLook takes out the hassle of sifting through videos and brings fun back into the process. With over a thousand videos added to the platform each week, IWantThatLook always has the best and latest.
IWantthatlook.com was created by the father-daughter team of Joe Ghartey and Georgia Becker. "I used to spend so much time on YouTube watching makeup videos, yet I never seemed to find what I was looking for. I thought it should be easier, so I told my stepdad, and we teamed up to create IWTL," Georgia Becker, a co-founder of IWantThatLook.com, explains. When Joe Ghartey, a former managing director at JP Morgan, teamed up with his savvy teen stepdaughter, they found a way to revolutionize the experience of watching beauty videos online. "We want to help our users find new and exciting beauty gurus, so we focused our new design around the exploration process and introducing people to the up and coming gurus," says Joe Ghartey (co-founder). IWantThatLook.com breaks the digital beauty mold by creating a video search engine that brings 'easy, fun, and personal' back to the online tutorial space.