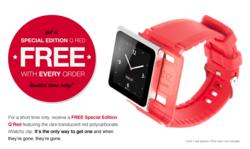 Now, with each iPod nano watch band order on iWatchz.com, purchasers will receive a free special-edition red Q Collection nano band!
(PRWEB) August 19, 2011
Today, iWatchz unveils a special treat for Web shoppers with an iPod nano watch on their minds. Now, with each iPod watch band order on iWatchz.com, purchasers will receive a free special-edition Q Collection nano band. Just because summer is coming to a close doesn't mean that hot deals are closing with it!
iWatchz iPod nano watch straps transform the iPod nano 6G into a stylish watch with three simple steps: press, slide, click. For style-conscious music fans who embrace technology, appreciate simplicity, and live on the go, iWatchz is the ultimate nano accessory that allows users to keep track of time and their favorite tunes no matter where life takes them.
For a limited time, each Web order made on iWatchz.com will be accompanied by a special-edition Q Collection nano watch band. This unique band brings together ease of use and chic design with its vibrant red soft-touch silicone strap and rare translucent red polycarbonate iWatchz clip system. The electric look of this special-edition Q Collection nano watch band is sure to keep summer fun, fashion and heat aflame.
Beyond the Q, iWatchz also offers two sleek leather band Collections. The Carbon Collection combines black leather straps featuring colored stitching with an anodized aluminum clip system. The Timepiece Collection blends faux-crocodile leather straps with a stainless steel clip system and stainless steel deployment buckle for added comfort and durability.
Think it's best to have a more tailored iPod watch band on hand but find that on some days a little more color and zest are needed? Take advantage of the iWatchz limited-time Web-only offer, and receive the dazzling special-edition Q Collection band simply by making the iPod nano watch band purchase that's been on the backburner all summer.
For more information or to purchase an iPod nano watch strap from any of the iWatchz Collections, visit: iWatchz.com/collections/.
About iWatchz
Founded in September 2010, iWatchz developed and engineered their patent-pending clip system and stylish watch straps for use with the Apple iPod nano®. Their passion is to design fashionable and functional products for the discerning consumer. For more information, please visit iWatchz.com.
Connect with iWatchz on Twitter, http://twitter.com/#!/iWatchz, and Facebook, http://www.facebook.com/iWatchz.
###
Media Contact
Alecia J. Shaver
Account Executive
lotus823
Office: 732.212.0823
Email: alecias(at)lotus823(dot)com