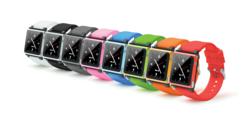 (PRWEB) April 18, 2012
Now it's even easier to turn your iPod nano into a stylish watch! iWatchz is pleased to announce that their iPod nano watch band Collections are now available at Target. The Q Collection, a light, sleek and comfortable nano watch band, is now available at all Target stores nationwide, Target.com and iWatchz.com for $24.99 USD.
Available in vibrant pink, classic black and white, the Q Collection nano band is the perfect sleek, durable gift idea for Mother's and Father's Day or the new graduate! The soft-touch silicone bands of the Q Collection are paired with durable translucent polycarbonate iWatchz clips. The bands are lightweight and secure, and users can transform their iPod nano into a stylish timepiece in just three simple steps: Press, Slide, Click!
"We are excited to bring our products to Target as we continue to expand the retail locations where people can purchase iPod watch bands for the nano," said the iWatchz Team. "The Q Collection brings together ease of use and modern design with silicone bands, and we're thrilled to work with Target to bring this versatile product to consumers nationwide."
High-resolution images of the Q Collection iPod nano watches are available for media.
About iWatchz
Founded in September 2010, iWatchz developed and engineered their patent-pending clip system and stylish watch straps for use with the Apple iPod nano®. Their passion is to design fashionable and functional products for the discerning consumer. For more information, please visit iWatchz.com.
Connect with iWatchz on Twitter, http://twitter.com/iWatchz, and Facebook, http://www.facebook.com/iWatchz.