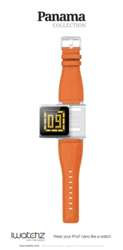 Live from CES 2012, new iWatchz iPod® nano watch band Collections, Kube and Panama, make their debut.
(PRWEB) January 10, 2012
iWatchz has unveiled, today, two brand new iPod nano watch band Collections at the 2012 Consumer Electronics Show (CES) in Las Vegas, Nevada. In describing the new Collections, iWatchz has hinted at one that's as cool as ice, and another that offers an unforgettably soft touch!
First up is the new Kube Collection, which features an adjustable polycarbonate link bracelet that will be available in three styles: solid, translucent, and soft rubber coated. The solid Kube sports a glossy finish, while the translucent Kube exudes a unique see-through look. The soft rubber coated Kube will offer a matte finish for iPod nano watch wearers. The Kube bands will be available in 8 iPod nano matching colors, each with a charcoal polycarbonate iWatchz clip and stainless steel clasp feature.
The soft-touch leather Panama Collection features an aluminum iWatchz clip and stainless steel buckle. The extremely flexible Panama iPod nano watch straps sport a standard leather lines appearance, with a notably soft look and feel. This matte finish nano watch Collection will be offered in 8-10 colors for iPod nano users.
The innovative new Collections, Kube and Panama, will be available for purchase from iWatchz in early March. The Collections are ideal for those who want the multifaceted features of the iPod nano paired with modern timepiece designs. The bands are lightweight, durable and offer the 'Press, Slide, Click!' versatility of the existing iWatchz iPod watch Collections: the Q, Q2, Carbon, Timepiece, Force, Nappa, Vintage, Icarius, and recently launched stainless steel watch Collection, Elemetal.
For more information on iWatchz, and the two upcoming nano band Collections, please email CES(at)lotus823(dot)com.
About iWatchz
Founded in September 2010, iWatchz developed and engineered their patent-pending clip system and stylish watch straps for use with the Apple iPod nano®. Their passion is to design fashionable and functional products for the discerning consumer. For more information, please visit iWatchz.com.
Connect with iWatchz on Twitter, http://twitter.com/iWatchz, and Facebook, http://www.facebook.com/iWatchz.
###