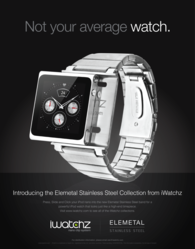 Wear your iPod® nano like a stainless steel watch with the new Elemetal Collection from iWatchz.
(PRWEB) December 02, 2011
iWatchz is pleased to announce the official release of their Elemetal Stainless Steel Collection, stainless steel iPod nano watch bands, on iWatchz.com. To celebrate the launch, iWatchz will be giving away two free Elemetal stainless steel nano watch bands via the iWatchz blog.
The Elemetal release complements the eight unique iWatchz iPod watch band Collections already available: the Q, Q2, Carbon, Nappa, Force, Icarius, Vintage, and Timepiece.
"We are very proud of our latest design and think it will change the way iPod nano users value their accessories," remarked the iWatchz team, adding, "The great thing about the Elemetal stainless steel watch Collection is that it is popular for both men and women - everyone on our team wears one. It's very chic and versatile."
The Elemetal Stainless Steel Collection features a stainless steel linking metal band, custom-made to seamlessly integrate the patented iWatchz stainless steel nano clip system. Designed with the professional in mind, iWatchz has taken the standard iPod nano accessory band to a new level, creating an iPod nano watch with a sleek elegance indistinguishable from traditional high end watches.
The Elemetal Collection is ideal for those who want the multifaceted features of the iPod nano paired with modern timepiece design. The band is lightweight, durable and offers the 'Press, Slide, Click!' versatility of the existing iWatchz iPod nano watch Collections.
The innovative Elemental Stainless Steel Collection is available now on iWatchz.com. To enter for a chance to win a stainless steel band from the new Elemental Collection, please visit the iWatchz blog at http://www.iwatchz.com/blogs/news/4768442-win-a-stainless-steel-watch-band-from-iwatchz-brand-new-elemetal-collection.
About iWatchz
Founded in September 2010, iWatchz developed and engineered their patent-pending clip system and stylish watch straps for use with the Apple iPod nano®. Their passion is to design fashionable and functional products for the discerning consumer. For more information, please visit iWatchz.com.
Connect with iWatchz on Twitter, http://twitter.com/iWatchz, and Facebook, http://www.facebook.com/iWatchz.
Media Contact
Alecia J. Shaver
Account Executive
lotus823
Office: 732.212.0823
Email: alecias(at)lotus823(dot)com
###