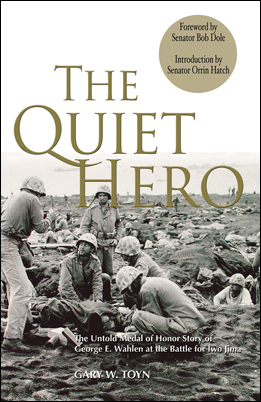 The Quiet Hero, The Untold Medal of Honor Story of George E. Wahlen at the Battle for Iwo Jima
Salt Lake City, UT (PRWEB) September 25, 2006 –
When President Harry Truman gave the Medal of Honor to George E. Wahlen in 1945, the two shook hands and then, seemingly overnight, Wahlen disappeared into virtual anonymity.
For over six decades, Wahlen was content to take his Medal of Honor story to his grave. That was until he met with James Bradley, author of national bestseller, and soon to be released feature film, "Flags Of Our Fathers." Wahlen realized for the first time that his story about earning the nation's highest award was not just a painful personal memory, but a story belonging to the nation's heritage. Not long thereafter, author Gary W. Toyn was asked to piece together the 60 year-old puzzle. The result is Wahlen's new biography "The Quiet Hero, The Untold Medal of Honor Story of George E. Wahlen at the Battle for Iwo Jima" the only, authorized account of his incredible story. ($21.95, American Legacy Media) Eager to honor the unheralded Wahlen, former Senator Bob Dole and Utah Senator Orrin Hatch have contributed their support by penning the book's foreword and introduction respectively.
Wahlen earned the Medal of Honor as a corpsman at the battle of Iwo Jima. This 36-day conflict is recognized by most historians as the greatest battle of the modern era. Although many know of the iconic flag-raising photo taken during the early stages of this clash, few realize that this was the only battle in which America suffered more casualties than the enemy. The battle was likened to "throwing human flesh against reinforced concrete." Over 26,000 Americans died or were injured, and Wahlen's Marine company suffered the highest casualty rate of any in U.S. history. Months later, they became the most decorated Marine company ever.
Wahlen was injured on three separate occasions but refused to leave his buddies on the battlefield without a corpsman. He saved countless lives, often carrying men twice his size to safety. His official medal citation reads like a rejected John Wayne movie script too grand to be believed. Witnesses of his heroics remain dumbfounded he survived.
Upon returning home from months of rehabilitation after the war, he stuffed the Medal of Honor in a drawer and told no one about it. His wife, Melba, didn't know he was a national war hero until years after they were married, only learning of it when she curiously opened an invitation to attend the inauguration of President Eisenhower.
Senator Dole stated about the new book: "It's is not just a biography; it stands as a tribute to a nation that willingly thrust its most accomplished and capable young people into harm's way."
Senator Hatch commented: "The George Wahlen story is one of inspiration and motivation for all of us who came from humble beginnings, and made the best with what God has given us."
James Bradley said: "The Quiet Hero offers an extraordinary peek into the making of one of our nation's most distinguished war heroes."
The Quiet Hero: The Untold Medal of Honor Story of George E. Wahlen at the Battle for Iwo Jima. ISBN 0976-1547-14, hardcover, 240 pages. Distributed by IPG, Available at bookstores everywhere.
Journalists: an online media kit is available at http://TheQuietHero.com. To obtain a review copy, or to arrange for an interview with Mr. Wahlen, Senator Hatch or Gary W. Toyn, please contact Bill Wood, (toll free) 1-866-233-8165 or via email.
Mr. Wahlen and Mr. Toyn will be in the Washington D.C. area October 11-12, 2006. Public events are being held October 11, 2006, 3 p.m. at the Marine Corps Association in Quantico, Virginia; and October 12, 2006, at 7 p.m. at the Washington D.C. Martin Luther King Jr. Memorial Library. Individual interviews will be extremely limited, and will be accommodated on a first-come, first-served basis. To make arrangements for an interview, please contact Bill Wood at the above contact information.
###