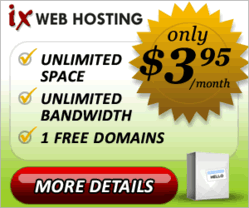 San Francisco, CA (PRWEB) April 21, 2012
The leading web hosting discount website Top-Cheap-Web-Hosting.com announces the new IXWebHosting promotion for their award-winning expert web hosting plan. All visitors going to IXWebHosting with this promotion can get the best discounted price for $3.16/mo, approximately 20% off the regular price $3.95/mo.
IXWebHosting has been a discount web hosting company since 1999. Now they're serving approximately 350,000 domains and 700,000 websites internationally. IXWebHosting has succeeded with their personalized customer support, fair money back guarantee, and cutting edge technology.
The IXWebHosting expert web hosting plan includes 1 free domain for life, unlimited domain hosting, 2 dedicated IP addresses, $25 free Google AdWords credits, and $50 free Miva PPC advertising credits. IXWebHosting supports almost all the latest cutting-edge technology for Linux and Apache platform including PHP, Ruby on Rails, Python, Perl, MySQL, CGI, Secure Shell (SSH), Fast CGI, and SSL. IXWebHosting is the only web hosting company that offers 2 dedicated IP addresses with the shared web hosting plan, especially at such an affordable rate.
Visit http://www.top-cheap-web-hosting.com/ixwebhosting-coupon-reviews to claim the 20% discount and to learn more information about IXWebHosting.
In April, 2012, TCWH announces promotions and coupon codes for 10 famous web hosts total, including WebHostingHub, BlueHost, HostGator, GreenGeeks, etc. Visit http://www.top-cheap-web-hosting.com/web-hosting-coupon for more web hosting promotions and coupon codes.
About Top-Cheap-Web-Hosting.com
Top-Cheap-Web-Hosting.com (TCWH) is a leading web hosting review and discount site, rating web hosts independently based on their sole experience and real customer voice. TCWH is designed to help consumers find the best web hosting deal at an affordable rate. Visit Top-Cheap-Web-Hosting.com for more information about web hosting review, rating and promotion.