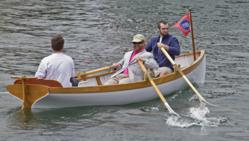 "The crowd [at Launch Day] helps launch these maritime craftsmen into an industry that is so vital to the region." --Susan Daly, IYRS
Newport, R.I. (PRWEB) May 24, 2012
At most graduation ceremonies, the scene is similar: a procession of students in caps and gowns collect diplomas to mark their matriculation into the real world. But at IYRS, a marine trades and technology school in Rhode Island, the scene is unlike that at any other school. IYRS students form a procession in small wooden boats they spent the past year restoring to mark their rite of passage as maritime craftsmen.
Members of the public are welcome to join the school's "Launch Day" celebration on Saturday, June 2 and see the fine craftsmanship produced by students in the school's three programs in Boatbuilding & Restoration, Marine Systems and Composites Technology. Ceremonies take place at the school's waterfront campus on Newport's popular Thames Street (449 Thames Street).
Students and their parents begin graduation ceremonies at 10:00 am inside the student workshop building, Restoration Hall. Beginning at 10:30, the public congregates at the school docks to await the students' arrival and the launching of the fleet. During the celebration, students splash their boats into the water and head out on Newport Harbor to test their own workmanship.
"Launch Day is an emotional culmination of the program for our students, and for their families," said Susan Daly of IYRS. "But it is also a great day for the community. With each year, the crowd of onlookers grows. All of them come here to help launch these maritime craftsmen into an industry that is so vital to the region."
IYRS is located along Rhode Island's 400 miles of coastline amidst one of the nation's strongest pockets of boatbuilding and marine-industry activity. The school attracts an international student body that range in age from recent High School graduates to workers in mid-career retraining for a new livelihood. Graduates this year are from 11 U.S. states, France, the Cayman Islands, and the U.K. The school maintains close ties to local industry, who prize the talent and work ethic of IYRS graduates, and many students move on to jobs in the region's marine industry.
On graduation day, students will launch a fleet of Beetle Cats, a small 12-foot catboat originally designed in 1921 for the waters off Cape Cod, a 26-foot Maine-style lobster built originally launched in 1941, a Watch Hill 15, and a replica of an 11-foot lapstrake tender originally designed for the legendary ocean racer Dorade. Students studying Marine Systems will showcase their refit work on a classic open motor launch. Composites Technology students worked on the construction of two modern Moth sailboats—a diminutive single-handed hydrofoil that is one of the fastest sailboats on the planet.
IYRS is a marine trades and technology school based in Rhode Island that trains individuals for careers in the marine industry and associated fields that utilize wood- and composites-building technology. The school trains craftsmen and skilled technicians through three full-time programs in Boatbuilding & Restoration, Marine Systems and Composites Technology. The school maintains two campuses in Newport and Bristol, and each locale is uniquely suited to the programs offered there. The waterfront campus in Newport is home to the Boatbuilding & Restoration Program and includes two historic buildings from 1831 and 1903 and the restoration of the rare 1885 schooner yacht Coronet. The Bristol teaching facility is home to the Marine Systems and Composites Technology programs and is located at the Franklin Street Marine Corridor, an industrial/educational complex where students mix with marine-industry companies.
For more information, visit http://www.iyrs.org.