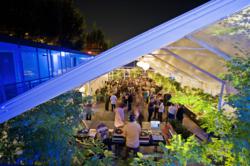 Izakaya is the first of its kind. It is a true event of the senses, where guests explore and immerse themselves in Japanese culture... but with Portland's unique and creative style.
PORTLAND, Ore. (PRWEB) October 01, 2012
The producers of "Izakaya: A NW Celebration of Japanese Pub Culture" have announced full details of the international event taking place at the renovated boutique property, Jupiter Hotel in Portland, Oregon, on November 16th, 2012 from 5:30 to 9 PM. Simply dubbed "Izakaya", the event will showcase an expansive collection of local and international saké, varieties of beer, shochu, and traditional Japanese-inspired cuisine, artists, and DJ's; a true celebration of Japanese pub culture.
Guest experiences will range from custom visual arts and light installations, a color-coded floor plan that mimics the rail system in Japan, to individual hotel rooms converted into themed, interactive spaces. "Izakaya is the first of its kind," says Shannon Pratuch, owner of the Scene Marketing Group. "It is a true event of the senses, where guests explore and immerse themselves in Japanese culture... but with Portland's unique and creative style."
The name itself is deeply rooted in Japanese custom; An izakaya (pronounced ee-Zah-ka-ya) is a traditional Japanese pub, where patrons go to unwind and enjoy good company, small plates, and drink. Over 3,000 square feet of the Jupiter Hotel has been dedicated to the experience. A full line up of Japanese beverages will be on site including Asahi, SakéOne, and TY KU, plus ten additional brewers and distillers. Portland, also known as the beer capital of the world, will launch its own version of Japanese-inspired beer with Gigantic Brewing's exclusive brew made specific for Izakaya. Throughout the night, more than ten different izakaya style restaurants will provide unlimited access to original dishes inspired by traditional Japanese pub fare.
Artists featured during Izakaya include DJ Satoshi Mukohata, whose work includes international fashion shows such as Christian Dior, and painter Taka Sudo, who aims to complete a live art installation during the event. Traveling from Vancouver, B.C., Sudo will arrive three days prior to begin the mural, culminating in a live video stream as he completes his custom artwork during the event. As a token to remember the night, the first 450 attendees will receive a saké cup sponsored by TY KU, a premium beverage brand that has close ties to celebrities Cee Lo Green and Perez Hilton.
Proceeds from Izakaya will benefit the Japanese-American Society of Oregon, or JASO. The purpose of this 105 year-old non-profit organization is to promote the business, education and cultural exchange between the people of Japan and Oregon. As JASO Executive Director, Dixie McKeel explains, "Izakaya, the NW Celebration of Japanese Pub Culture, will be such a unique and exciting Japanese event to showcase to our entire community. We are so exuberant to be a part of this fabulous event and honored for the proceeds to benefit the Japan-America Society of Oregon."
Izakaya is made possible with the assistance of Travel Oregon, Travel Portland, Young's Market Company and Hellion Gallery.
A full list of sponsors include:
Jupiter Hotel
SakéOne
Morel Ink
TY KU
Uwajimaya
Whole Foods Market
Mosca Photo
ZoePDX
Willamette Week
Yelp
Scene Marketing Group
Tickets to attend Izakaya are $40 until November 2nd, 2012, prices will then go to $45. Those interested in making a night of the event can purchase a package to stay at the Jupiter Hotel with rooms starting at $76.
Tickets are available for purchase in limited quantities through the event website or ticketing site. More information, ticket sales, and a full list of participants can be found at http://celebrateizakaya.com.

About the Scene Marketing Group:
The Scene Marketing Group, a Portland, Oregon based firm, provides supportive and proactive public relations, marketing, event management and consulting services to private businesses, associations and non-profit organizations across the nation. The agency has hosted and promoted several successful events in Portland since 2008, including Indulge @ the Jupiter, Portland's premier culinary festival.
About the Jupiter Hotel:
Located on the East side of Portland, The Jupiter Hotel offers urban travelers a unique lodging experience. With 81 modern guestrooms, the hotel connects guests to the vibrancy of Portland at an affordable rate. The Jupiter is located at 800 E. Burnside, Portland, Oregon. For further information or to make a reservation, visit http://www.jupiterhotel.com.