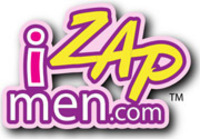 Valhalla, NY (Vocus) July 13, 2010
(Vocus) July 13, 2010 -- iZAPmen.com's top concern is women's personal safety. Violent crimes against women are increasing and frequently occur without warning. And, most women who are victimized never imagined that a violent crime would happen to them. It always happens to some other person.
According to statistics, in the next hour somewhere in the United States, women will be the victims of:

900 Thefts
189 Violent Crimes
124 Assaults
66 Robberies
24 Sexual Assaults
12 Rapes
2 Murders
iZAPmen.com is here to provide women with the widest assortment of non-lethal self-defense products available today. The products they make available are designed especially for women and their need to protect themselves from becoming a victim. Violent crimes against women are committed in many different settings, from a surprise assault by a stranger to an unwanted advance from a friend, family member or co-worker to a date who has difficulty with their "no."
iZAPmen.com prides themselves in fulfilling their mission to continually offer a comfortable place to shop, a wide assortment of effective, non-lethal women's self-defense products as well as pricing and service that keeps women coming back and recommending the website to their friends.
Products offered include mace and pepper sprays in a wide variety of unique products and formats just for women. Similarly iZAPmen.com offers one of the widest selections of stun-guns and Tasers specially made for women. These products are made to fit securely in a women's hand and come in a wide variety of colors. Many are truly well concealed or camouflaged as lipsticks, cell phones, rings, key chains and other items. In addition, iZAPmen.com offers complete safety kits including their College Survival Safety Kit, Ultimate Apartment Survival Kit and Ultimate Vehicle Safety Kit. They also have an assortment of Self Defense DVD's, Self Defense Weapons, Personal Alarms, Home Protection, Diversion Safes, Safety Lights and more– all made exclusively for women.
When you arrive at iZAPmen.com you are greeted warmly by their four helpful, knowledgeable team members: Pepper Spray Patty, Suzy Stun Gun, Mandi Mace and Tammy Taser. The team will guide you through the site, enhancing your shopping experience, assisting you as they recommend just the right women's self defense products and providing lots of extremely useful information. The team has put together a very comprehensive knowledge base on the site to assist you in every aspect of your shopping experience ranging from understanding state and local restrictions to how the various devices actually work to how to choose the best self defense products for your specific needs, tastes and desires. Patty, Suzy, Mandi and Tammy all contribute extensively to the iZAPmen.com Blog.
iZAPmen.com is a must see, must shop website experience for any women who wants to effectively defend herself so as not to become the next victim of a violent crime. Women who are already flocking to and enjoying the site include college coeds concerned about violent crimes on campus, single women seeking protection against dates gone wrong, working women concerned about their everyday security in the workplace and beyond and even moms seeking products to protect themselves and their children. There is truly something for every woman at iZAPmen.com.
Browsing iZAPmen.com is a comfortable, enjoyable, empowering experience for any women.
iZAPmen.com is a wholly-owned subsidiary of Prism Holdings, Inc., a multi-dimensional eCommerce company based in picturesque Valhalla, NY. For additional information on Prism Holdings please visit http://www.PrismHoldingsInc.com.
###