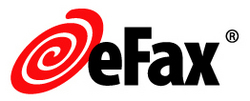 The eFax Next initiative is all about transforming the way documents do business and bringing increased productivity to busy professionals. This new app is just one example of how fax is evolving with today's business
Los Angeles, CA (Vocus) November 10, 2010
eFax® today announced a new iPhone app which transforms the iPhone into a fully-functioning fax machine for mobile professionals and anyone on the go. The eFax iPhone app allows eFax account holders to send a fax by taking a picture of a document using the iPhone's high-resolution camera. Additionally, incoming or stored faxes can be easily received, searched, viewed, archived, or tagged on the iPhone. eFax is a brand of j2 Global Communications, Inc. (NASDAQGS:JCOM) and is online at http://www.efax.com.
A video demonstrating the eFax® iPhone app is available on YouTube. Click here to view the video.
The eFax iPhone app brings a host of new mobile faxing capabilities to the popular Apple device, including the ability to:

Create and send faxes: take photos of documents and the app will enhance the images, combine them, and fax them out just like a fax machine.
View and search faxes: quickly view and search all received faxes. Faxes are converted to searchable documents using optical character recognition technology, allowing them to be acted upon anywhere, anytime.
Use cover sheets and contact lists: create customized fax cover sheets and use the iPhone contact list to easily populate them.
Tag and archive faxes: add search tags to individual faxes and archive them for convenient access later.
Send documents by email: send enhanced documents created by the app as email attachments.
The eFax iPhone app is part of the company's recently launched eFax Next™ initiative, an orchestrated rollout of essential business solutions, technology integrations, and feature enhancements to the eFax service. The most recent eFax Next announcement was the integration of eFax into the new HP Photosmart eStation all-in-one printer. Lifetime fax storage and searchable fax capability were also added earlier.
"The eFax Next initiative is all about transforming the way documents do business and bringing increased productivity to busy professionals. This new app is just one example of how fax is evolving with today's business," said Mike Pugh, vice president, marketing for j2 Global Communications, Inc. "The eFax iPhone app gives mobile professionals the freedom to manage business critical documents anywhere, any time."
eFax is a registered trademark of j2 Global Communications, Inc.
About j2 Global Communications
Founded in 1995, j2 Global Communications, Inc. provides outsourced, value-added messaging and communications services to individuals and businesses around the world. With offices in eight cities worldwide, j2 Global's network spans more than 4,200 cities in 49 countries on six continents. The Company's websites appear in numerous languages, including Dutch, French, German, Spanish, English and more. Payments are accepted in currencies that include the U.S. Dollar, British Pound, Canadian Dollar, Japanese Yen, Euro, Hong Kong Dollar and more. j2 Global provides live sales and customer service support in multiple languages, including English, Spanish, Dutch, German, French, Cantonese and more. j2 Global markets its services principally under the brands eFax®, eFax Corporate®, Onebox®, eVoice® and Electric Mail®. As of December 31, 2009, j2 Global had achieved 14 consecutive fiscal years of revenue growth and eight consecutive fiscal years of positive and growing operating earnings. For more information about j2 Global, please visit http://www.j2global.com.
Press contact:
Bill Threlkeld
pr(at)j2global(dot)com
Senior Manager, Public Relations
Twitter: @eFaxpr
###