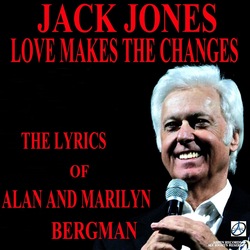 best jazz singer in the World
Los Angeles, CA (Vocus) August 12, 2010
Legendary singer Jack Jones, best known for his Grammy-winning vocals for Wives and Lovers and Lollipops and Roses, releases the next chapter in his long history of making hits, Love Makes the Changes: The Lyrics of Alan and Marilyn Bergman, out on August 3rd, 2010.
Jack Jones, noted the "best jazz singer in the World," by Judy Garland, "THE greatest 'pure' singer in the world" by Mel Tormé and "One of the major singers of our time" by Frank Sinatra, is one of the most recognizable artists in the world. During the 60's, Jack released his first of many hits Lollipops and Roses, soon followed by Wives and Lovers, She Loves Me, Lady, The Race is On, What I Did For Love, and the Grammy nominated Impossible Dream. These songs paved the way for his musical career spanning over five decades and encompassing more than sixty albums, including Grammy nominated Jack Jones Paints a Tribute to Tony Bennett.
A double Grammy winner, Jack performs around the globe to sold-out audiences in venues ranging from Jazz clubs to the London Palladium. Whether he performs with his trio or full Symphony orchestra, his musical perfection, vocal passion, phenomenal breath control and impeccable phrasing all unfailingly illustrate why he stands with the luminaries. From the thematic threads of his shows to his ability to make the largest halls intimate, Jack Jones is the very definition of a complete and total entertainer.
Love Makes the Changes: The Lyrics of Alan and Marilyn Bergman, was created as a tribute to the lives and shared love of Jack's good friends and celebrated songwriters, Alan and Marilyn Bergman. During their distinguished career, their songs have been nominated for sixteen Academy Awards, for which they have won three: "The Windmills of Your Mind" in 1968, "The Way We Were" in 1973, and the score for "Yentl" in 1984. "Windmills" and "The Way We Were" also earned Golden Globe Awards, and "The Way We Were" earned two Grammys. Among their songs are: for Frank Sinatra "Nice 'n' Easy;" for Ray Charles "In the Heat of the Night," for Fred Astaire "That Face," " You Don't Bring Me Flowers," "What Are You Doing the Rest of Your Life?," "So Many Stars," "The Summer Knows," "Where Do You Start?," "On My Way to You," "You Must Believe In Spring," to name but a few.
Jack explains the motivation behind the release, "For years, my dear friends Alan and Marilyn Bergman have had the ideal loving and pure relationship, truly sharing almost every ounce of life. I call them: "The Masters and Johnson of Romance." So I wondered, 'How could they possibly perceive what it feels like when the music doesn't keep playing?' Well, on this CD We pay tribute to the most perceptive and creative couple I know. They have inspired me to put many of their wonderful creations into one of my weak story lines…Each of these song tells part of the story, most of which you and I have lived through. You write your own story as you follow the songs, and even if it doesn't turn out to be much of a book, it will be one hell of a score."
Track Listing:
1. That Face
2. It Might Be You
3. I Won't Believe My Eyes
4. Nice 'N' Easy
5. The Windmills of Your Mind
6. In Another Life
7. The Summer Knows
8. Where Do You Start?
9. Medley: the Way We Were / How Do You Keep the Music Playing?
10. On My Way To You
11. Love Makes the Changes
12. What Matters Most
For more information, please visit: http://www.jackjones.org/ or http://www.jackjonesmusic.com
For a review copy of the album, please contact Heather Noonan at pr (at) bfmdigital (dot) com or 818-762-0191.
About BFM Digital, Inc.
BFM Digital is a global digital music company committed to serving the independent music community and delivering quality music, spoken word and video content to leading online retailers worldwide. Representing a diverse catalog of indie labels, artists and publishers, BFM distributes to all of the major music services including iTunes, Amazon, Rhapsody, eMusic, Napster, Walmart, Nokia and many more. With an unparalleled commitment to personalized service, BFM works closely with their content providers from around the world to ensure maximum exposure of their catalog by customizing marketing efforts and building strong relationships with BFM's digital store partners.
Press Contact:
Heather Noonan
BFM Digital, Inc.
Email: pr(at)bfmdigital(dot)com
###