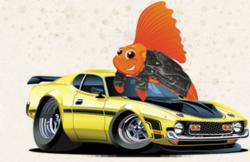 I sort of have my fingers crossed that when Jack and Lisa's kid arrives, they'll do another Osbournes reality show with Ozzy as a grandpa.
Los Angeles, CA (PRWEB) April 08, 2012
RoadFish.com men's lifestyle and finance magazine today commented on the coincidence of several different members of the Osbourne family selling their homes within the same week. Former "Black Sabbath" front man Ozzy and his wife Sharon sold their Malibu estate this week, at the same time their son Jack put his London flat on the market. RoadFish.com hopes that it doesn't take Jack as long to sell the London property as it took his parents.
Entertainment and world news reporters Monstersandcritics.com reported that Jack Osbourne, the former "Adrenaline Junkie" star, has put his one-bedroom flat in on the market. Jack's home is in Marylebone, located within the city of Westminster, an affluent, upscale inner-city part of London. Monstersandcritics.com reports that the flat is worth 610,000 pounds (or $977,000 US dollars.) Reportedly the flat is two stories of "minimalist" design (plain white walls, cream floors, halogen overhead lighting.) But the neighborhood itself is quite posh, and would make a fine living quarters. No word on which realtors Jack is going through to sell, however I'm sure more than just a few estate agents would be bending over backwards to help the 26-year-old star unload his pad.
AZ Central reports the reason for Jack's move being the need to upsize for his blossoming family. Jack and his fiancé, Lisa Stelly, are expecting their first child at the end of the month and are looking for a bigger place for themselves and the baby. Regarding the months leading up to the baby's arrival, fiancé Lisa was recently quoted as tweeting, ''Jack and I's new hobby is going to cheese stores and buying cheese, salami, olive oils, and finishing salts. Hi, we are officially boring.''
RoadFish.com's Senior staff writer is quoted as saying, "I think that the Osbournes are some of the most interesting people to watch. Sharon has managed Ozzy's solo career brilliantly, and it's been great seeing Jack and Kelly evolve and make names for themselves since "The Osbournes" show. These are kids who grew up in the spotlight, with an incredibly famous dad, and they're both doing so well for themselves. I sort of have my fingers crossed that when Jack and Lisa's kid arrives, they'll do another Osbournes reality show with Ozzy as a grandpa."
The news of Jack selling his home coincides with the final sale of his parents, Ozzy and Sharon's, home in Malibu, CA. According to Lauren Beale of the LA Times, the Malibu estate has been on the market since 2006 and was listed at $10 million last year. The price dropped to $8.795 million before the property finally sold this past week for $7.925 million. The Osbournes purchased the house for $5.1 million in 2003. The 4,500 square foot beach house features three stories, five bedrooms, five bathrooms and has rented in the past for $40,000 a month. According to the article, Jonah Wilson of Hilton and Hyland was the listing agent.
RoadFish.com's Senior staff writer is quoted as saying, "Man I just hope it doesn't take Jack as long to sell his pad as it took his parents. But we're talking a one million dollar house versus a 10 million dollar one, so hopefully he'll be okay. England is also doing better economically than the US right now, which works to his advantage."
63-year-old singer/songwriter Ozzy Osbourne is best known for his role as lead singer for the British heavy metal group Black Sabbath. Ozzy launched a solo career in the 1980's under the management of his then-girlfriend, now wife, Sharon. Together with Sharon and son Jack, Ozzy launched "Ozzfest" in 1996, what has become an annual hard rock music festival featuring dozens of bands and headlining Black Sabbath. Ozzy's 59-year-old wife, Sharon, is still his manager and since 2010 has been a co-host on "The Talk." The family was featured in the reality TV show "The Osbournes" from 2002-2005, portraying the domestic home life of Ozzy, Sharon, and two of their kids Jack and Kelly.
Besides shooting to fame as being the son of one of the most well-known heavy metal rockers and starring in "The Osbournes," Jack Osbourne has since paved his own way with the British reality show "Jack Osbourne: Adrenaline Junkie" which ran from 2005 to 2009. The series follows Jack along many adrenaline-fuelled adventures, including Jack running with bulls in Pamplona, Spain, partaking in a strict Muay Thai exercise program in Thailand, and getting in physical and mental shape to climb El Capitan in California.
About RoadFish
RoadFish.com is an online men's lifestyle and finance magazine targeted toward men in their 30's and 40's that have already attained a moderate level of success in life, and are striving toward more. It goes over current events of interest to this group, such things as exciting adventures, making money, consumer interests, hot chicks, and professional sporting events as well as ways to make more and save more money. It is a publication owned by Purpose Inc.
###