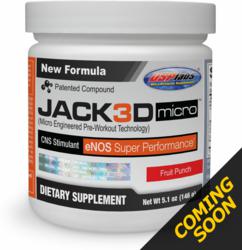 Jack3d Micro is getting all the ticks in the boxes . We're pretty confident our customers will be delighted with the new version.
Colchester (PRWEB UK) 14 September 2012
Reports of the death of Jack3d have been grossly exaggerated. Demonised as the poster child for the DMAA ban, Jack3d was the out-and-out leader in the pre-workout market. Pre-workout has become the fastest growing market in sports nutrition and – as anyone who fights their daily battles in the gym will know – has become a cornerstone of any good workout.
In the words of Rocky, "It ain't about how hard ya hit. It's about how hard you can get hit and keep moving forward."
So Jack3d is back. USPlabs, in association with Cheap UK Supplements, the official UK distributor, is delighted to announce the introduction of Jack3d Micro, the long awaited follow up to the world renowned Jack3d pre-workout formula.
Many pre-workout formulas are clones of one another...not Jack3d Micro. The unique formula includes eNOS Super Performance SystemTM and CNS Contractile Stimulant SystemTM. The exclusive ingredients bring maximum results in minimum dosing.
Jack3d Micro has been specifically formulated to increase Nitric Oxide levels – the potent selection of L-Citrulline, Arginine Nitrate, Agmatine Sulfate and Grape Seed extract will leave users experiencing mind blowing pumps.
To increase focus, 3,4-Dihydroxycinnamic Acid, Norcoclaurine and Caffeine have been carefully selected to not only act as stimulants but also to work synergistically with the eNOS Super Performance SystemTM.
"We're delighted by the early feedback," says Adam Rossiter, Managing Director at CheapUKSupplements.com. "Jack3d Micro is getting all the ticks in the boxes . We're pretty confident our customers will be delighted with the upgrade. Jack3d sold millions of tubs worldwide and Jack3d Micro will be no different! And unlike its predecessor, it's open to use by all athletes."
Jack3d Micro is available from £29.99 for 40 servings.
About Cheap UK Supplements
Cheap UK Supplements is part of Sports Supplements Ltd, one of the fastest growing online distributors and manufacturers of sports nutrition products. Founded in 2004 by Adam Rossiter and Elliot Dawes, the company includes both 3rd party and in-house (BulkPowders.co.uk) brands.
For more information on the innovative Jack3d Micro contact Jos Williams at Cheap UK Supplements (http://www.cheapuksupplements.com).