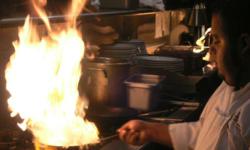 Cocina Poblana is by far one of the best authentic Mexican restaurants in Emeryville and Oakland
Alameda, CA (Vocus/PRWEB) May 06, 2011
Cocina Poblana, the popular East Bay gourmet Mexican restaurant, has announced a special selection of traditional Mexican fare for its Mother's Day brunch buffet, which will be served from 10 am to 3 pm on May 8. The $29 price ($15 for child over 8 ,and under 8 eat free) includes coffee, non alcoholic drinks and dessert. Mothers receive complimentary mimosas.
The Mother's Day brunch buffet at Cocina Poblana will include:
HOT DISPLAY
Cocina Poblana's authentic moles, traditional enchiladas, carnitas and an array of fresh salsas. Will also include a "Quesadilla Bar" with choices of shrimp, steak or chicken quesadillas.
OMELET STATION
Preparing whole egg omelets to order. Featuring, diced peppers, ham, chorizo, tomatoes, onions, sliced mushroom, cheese, cilantro and other fresh vegetables.
DESSERT STATION
Assorted gelatins, cookies, fresh Mexican bread, chocolate cake, coconut and coffee flavor "flanes", and our signature "Tres Leches" cake.
FRUIT STATION
Fresh slices of watermelon, pineapple, strawberries and cantaloupe.
SOFT DRINK STATION
Fresh aguas frescas, flavors from strawberry, horchata, tamarindo and jamaica. Will also include hot drinks, such as café de olla and regular coffee.
ESTACIÓN DE BUFFET

Tamales con costillas de puerco
Mole poblano
Pipián
Birria de Jalisco
Enchiladas de papa con huevo
Enchiladas de pollo
Viva México (huevos con chorizo)
Chilaquiles verdes
Camarones al chipotle
Carnitas don Pedro
Frijoles de la casa
Black beans
Poblano rice
Arroz de limón
Papas de la casa
Ensaladas poblana
Ensalada mixta
Chips and salsa
Guacamole
Sour cream
Queso fresco
Queso monterrey
Tortillas de maíz
Tortillas de harina
Quesadillas bar
Quesadillas
Witlacloche
Flor de calabaza
Rajas con crema
Pollo asado
Carne asada
Y de camarón
"Cocina Poblana is by far one of the best authentic Mexican restaurants in Emeryville and Oakland," said Peter Sailsbery, a diner at Cocina Poblana. "The food is fresh, always on point and the staff is great when it comes to customer service."
For fifteen years, chef Lito Saldaña has been sharing the art of fine Mexican cuisine with the Bay Area. His cuisine is inspired by the rich, French-influenced dishes of Puebla and the fiery rusticity of Jalisco, and carries with it the legacy of family dinners, handmade by his parents Mama Luisa and Don Pedro.
Lito was recognized for his savory Latin dishes at the Benchmark Institute of San Francisco's festival, A Taste of Tequila and Tamales by the Bay with dishes such as Corundas de Puerco corma, known as tamales; and braised pork spare ribs paired with a sweet and tangy green sauce made of tomatillos and chiles de arbol, topped with Mexican cheese, sour cream, and pinto beans. The winning tamale this past year was an open-faced vegetarian corma, cradled in a steamed banana leaf and topped with mushrooms and rajas con crema, a cactus corma cooked in light olive oil and served with Mexican cheese, sour cream, and frijoles poblanos.
Besides a Latin-infused buffet with more than 50 items to choose from, the restaurant will also have a live Latin music performance with the John Olechea trio.
For more information about Cocina Poblana's Mother's Day brunch, call them at (510) 451-4700, visit their website at http://www.cocinapoblana.com, or visit their Oakland or Emeryville location.
About Cocina Poblana
Serving the communities of Alameda, Emeryville, Oakland and Piedmont, Cocina Poblana offers gourmet Mexican food, patio dining, a collection of beautiful art by local artists, and a tequila bar serving over a hundred varieties of tequila. Open 7 days a week, Cocina Poblana also offers catering and free delivery on orders over $100.
###