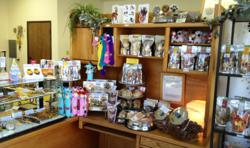 It's not just a treat, it's a lifestyle!
Corona, CA (PRWEB) June 26, 2013
Red velvet cupcakes, birthday cakes, snicker doodles and biscotti are just a few scrumptious goodies found at Jackboy's. However, all the delicious goodies found at this bakery are for canines only. All treats are crafted, baked and decorated just a few feet away from dogs and their owners who come from miles away to pick up doggie cakes, treats or just to visit for fun. Both people and dogs are greeted with delicious aromas and a huge selection of freshly baked treats displayed in a way that is reminiscent of a candy store in a quaint small town. The cookie case is filled with tempting, handcrafted pastries while the shelves house bags of hand decorated red velvet cupcake cookies from Jackboy's Celebration Collection.
"We are so glad we drove all the way here from La Verne. This is definitely worth the trip. We are very happy and will definitely come back again," said Lisa, a customer who came in with both family and two 100+ pound Akita dogs.
Dog lovers living too far to drop in are not left out of all the goodies and fun. Jackboy's has an inviting website where customers shop and have fresh baked treats shipped anywhere in the US.
"I started doing business with Jackboy's a few years ago, and am so glad I found them on the Internet. The items arrive quickly and everything is fresh. My dog is thrilled to see the package arrive, because she knows the owner also throws in extra samples in every order," expressed Candee D from Boca Raton, Florida.
Excellent customer care and quality combined with creativity are the driving force in this bakery. "It's not just a treat, it's a lifestyle!" said Athena Yap, Owner and CEO of Jackboy's Dog Bakery. "It's a lifestyle of no compromises and savoring every moment to the fullest."
This bakery is committed to all natural, high quality human grade ingredients and uses no chemical preservatives, artificial coloring or flavors. Jackboy's treats are baked with 100% pure olive oil. "Olive oil is a non-hydrogenated oil with no trans fat and is packed with tons of amazing antioxidant properties for promoting thicker, shinier and smoother coats on dogs," explained Athena.
A must stop location for dog lovers traveling the CA 91 Freeway on the way to Las Vegas or Palm Springs from the west or to Disneyland coming from the east. Dog lovers can find Jackboy's Dog Bakery at 109 N Maple Street, Unit B, Corona, California. Their website is http://www.jackboysdogbakery.com .
About Jackboy's Dog Bakery LLC:
Jackboy's Dog Bakery LLC is a bakery of all natural, artisan dog treats for dog owners to celebrate happy, loving and fun lifetime memories with their dogs through healthy, delicious treats.