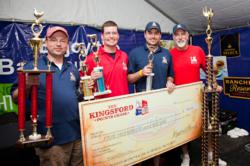 No one questions that you can get a high quality crab cake or half-smoke in DC. It's time to prove that you can get BBQ in Washington, DC as good as the BBQ found in Texas, Memphis, the Carolina's or even Kansas City." - Heath Hall of Pork Barrel BBQ
Washington, DC (PRWEB) October 17, 2011
Pork Barrel BBQ's competition barbecue team, Washington, D.C.' s current Grand Champion, is headed to Lynchburg, Tennessee to compete in the 23rd annual Jack Daniel's World Championship Invitational Barbecue this weekend. Nearly 90 teams from across the country and around the world are competing for cash, prizes, and ultimately the most prestigious championship title in competition barbecue.
During the invite-only barbecue competition, Pork Barrel BBQ will compete against the world's most accomplished barbecue pitmasters who bring their best meats, sauces, cooking techniques, and barbecue secrets to historic Lynchburg for the two-day barbecue battle and crowning of barbecue's top pitmaster. Over 25,000 visitors are expected to attend this year's contest.
Pork Barrel BBQ earned an invitation to compete by winning the Grand Championship at the 2011 Safeway National Capital Barbecue Battle in Washington, DC. To qualify for "The Jack", teams must either win a competition in which 50 or more teams participated, or win a qualifying state championship and be selected in a blind drawing. Automatic invitations are given to the 2010 Jack Daniel's Grand Champion and the winner of the 2011 Memphis in May, 2010 American Royal Open and 2011 Houston World's Championship Bar-B-Que contests.
The Pork Barrel BBQ team has a strong track record of success at barbecue competitions across the country, both through scoring highly with certified barbecue judges and by being selected as crowd favorites with Pork Barrel BBQ's most popular People's Choice award-winning sauces. The team, led by pitmasters and Pork Barrel BBQ co-founders Heath Hall and Brett Thompson, is the reigning Purdue National Chicken Champion and has several of their award-winning sauces available in grocery stores across the country, including Schnucks, Whole Foods, Central Market, Safeway, and Costco.
"It is an honor to represent Washington, DC at the most prestigious of all barbecue contests, the Jack Daniel's World Championship Invitational," said Heath Hall, President and co-founder of Pork Barrel BBQ. "No one questions that you can get a high quality crab cake or half-smoke in DC. It's time to add to that list and prove that you can get barbecue in Washington, DC as good as the barbecue found in Texas, Memphis, the Carolina's or even Kansas City. We want to show the world that Washington, DC deserves a place on America's eclectic barbecue canvas and getting the chance to compete for the coveted title of Jack Daniel's Barbecue World Champion under the DC flag gives us that chance."
Visit http://bit.ly/Jack71 to see the teams from across the United States and around the world competing in the 23rd annual contest.
For more information, visit the Pork Barrel BBQ website http://www.porkbarrelbbq.com and read about their latest updates and adventures on Facebook, Twitter (@porkbarrelbbq) and the company's blog.
About Pork Barrel BBQ
Pork Barrel BBQ was founded in December 2008 during the peak of the economic crisis to prove that a company not owned or operated by the federal government could succeed, and that if you had a good idea, it was still possible to grab a piece of the American Dream. Pork Barrel BBQ founders, Heath Hall and Brett Thompson, ran the company out of the basement of their houses, selling their award winning BBQ products one bottle at a time. In less than one year, their Pork Barrel BBQ Sauces and Spice Rub were carried in over 1,000 stores in 40 states. Throughout their journey, they have stayed true to their mission – to unite the nation through the great tradition of BBQ, and bring bipartisan flavor to your next meal. The Pork Barrel BBQ Competition BBQ Team entered its first contest, The Safeway National Capital Barbecue Battle, in June 2009, and walked away with two trophies – Second Place in the "Nations Best BBQ Sauce Contest" and Fourth Place for their pulled pork in the Memphis In May portion of the contest. Since then, the team has won multiple awards, including the 2011 Perdue National Chicken Championship, the Safeway National Capital Barbecue Battle in 2011, the "Chinet People's Choice" award for best BBQ sauce in 2010 and other notable Memphis in May and Kansas City Barbecue Society BBQ competition accolades as well as having their Pork Barrel BBQ Original BBQ Sauce named Best Sauce in America and one of "The 125 Best Foods for Men" by Men's Health Magazine in November 2010. For more information, visit http://www.PorkBarrelBBQ.com or follow Pork Barrel BBQ on Facebook and Twitter (@porkbarrelbbq).
###