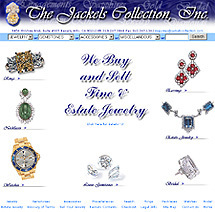 "With gold prices as high as they are, what better way to access liquidity and immediate cash than by selling your Jewelry"
Beverly Hills, CA (PRWEB) March 23, 2010
The Jackels Collection of Beverly Hills opened its vaults to purchase Estate and Personal Jewelry. With the US economy in search of a recovery that might be years off for most of us, Americans are looking for sources of immediate and liquid cash and to sell their valuable Jewelry collections.
"Gold prices just hit an high of $1143.10 an ounce this week," stated Jessica Jackels, Vice President of Purchasing for The Jackels Collection. "With gold prices as high as they are, what better way to access liquidity and immediate cash than by selling Estate and Personal Jewelry."
Clients come to The Jackels Collection of Beverly Hills to have their jewelry evaluated from all over the country. Whether you're single, engaged, married or about to get divorced; we can service personal and estate jewelry needs. Selling Jewelry and Gold for Cash can help immediately whether employed or unemployed, about to make that next multi-million dollar deal, or about to go through a bankruptcy. The Jackels Collection is here to appraise, evaluate and purchase jewerly. By selling personal and estate jewelry can alleviate and help with your immediate cash needs.
The Jackels Collection of Beverly Hills are leading buyers and purchasers of diamonds, pre-owned jewelry, watches, and gold. They pay the highest prices instantly and all transactions are confidential. Their professional and GIA gemologists have the experience to provide you with the most accurate evaluations to establish the highest cash value of your jewelry.
Whether you are looking to buy or sell, you can come in with the utmost confidence in knowing that you will be treated as our most important gem.
About the Jackels Collection of Beverly Hills:
Has been in Beverly Hills for over thirty-seven years. They have certified Gemological Institute of America gemologist available to appraise your estate and personal jewelry. They have been privileged to have worked with the finest jewelers and craftsmen from around the world. They have created many one-of-a kind pieces for well-known celebrities in Beverly Hills, as well as customers seeking to buy that unique piece of jewelry for a loved one or themselves. They personally work with each and every client to make sure they are 100% satisfied with their jewelry requests. They provide you with our expertise and unsurpassed professional integrity. Please call them today with your questions and/or for a confidential jewelry consultation.
Please visit our website at http://www.JackelsCollection.com.
Call today at 310-247-0848 to make an appointment and/or for a free verbal appraisal.
Media Contact:
MP Public Relations
Mark Politi
Mark.Politi(at)Gmail(dot)com
310-710-8736
###