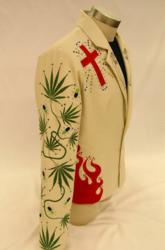 Being given the chance to play Gram in this production is a humbling experience. As a musician he has inspired me not just in my music but as a source of energy - Jordie Lane
Melbourne, Australia (PRWEB) July 19, 2012
Michael Bate, co-writer, producer and director of the theatrical concert Grievous Angel: The Legend of Gram Parsons contacted Crooked Brook to create a replica of Gram Parsons' Nudie suit to be worn by Anders Drerup, the man who played Gram in the North American tour of the show.
Sara "The Kerrminator" Kerr, head of the art department at Crooked Brook, was given the responsibility of being lead designer for the project. With respect to the original designers of Parsons' legendary suit, Nudie Cohn and Manuel Cuevas, it didn't seem right to create a total replica/knock-off of the original, so the decision was made to create a recognizable image of the original, but not a total re-creation.
The suit is a made in 100% cotton denim, and a masterpiece of embroidery, tackle twill and 570 assorted colored rhinestones. It will be worn by Jordie Lane, who will star as Gram in the Australian production of Grievous Angel at the Athenaeum Theatre in Melbourne from July 20 to 29, 2012.
About:
Grievous Angel: The Legend of Gram Parsons is a theatrical concert about the original cosmic cowboy, who lived fast, died young and left a charred corpse. The creative force behind some of the most important recordings of the late '60s and early '70s, Parsons pioneered country rock with The Byrds' Sweetheart of the Rodeo, schooled the Rolling Stones in American roots music, created The Flying Burrito Brothers and recorded two classic solo albums, GP and Grievous Angel, with his musical protégé, Emmylou Harris.
Sara "The Kerrminator" Kerr, is a freelance artist originally from Upstate New York now based in Portland Oregon who is available for art and design work. She does drawings, paintings, custom matting & framing, logo design, book illustration, fashion illustration and pretty much anything drawing related.
Jordie Lane is a critically acclaimed singer/songwriter who is widely regarded as a leading light of the Australia's folk and alt-country music scenes. Blending the dark romanticism of Bruce Springsteen, the country swagger of Gram Parsons and the versatility of Ryan Adams, Jordie creates music that pushes boundaries while remaining universally accessible.
Anders Drerup has jumped quickly from the streets of his home town to the reaches of Canada and beyond. The 26 year old singer/songwriter from Carp, Ontario carries an impressive resume in formats ranging from reggae to classic country. He has logged tours of Europe, Australia, Cuba and Canada and has recorded in premier studios around the world.
Crooked Brook is a unit of the atelier division of an art studio that offers full service apparel design, pattern making, sample making, private-label small lot production and embroidery. Since 1989, they've built a strong reputation of providing top-notch apparel designs, patterns, fit and production samples for many brand name catalogs and retailers, as well as wardrobe and costumes for movies, television and theater.
All Crooked Brook branded garments and accessories are proudly made to order in the U.S.A.
Because of their unparalleled attention to detail in tailoring, they were awarded a Supima® licensing agreement. These contracts are not awarded lightly. The applicants must meet requirements insuring the highest level of quality and integrity for any products bearing the Supima® brand.
In addition, Crooked Brook designs and manufactures:
Men's and women's chef jackets , casino, spa, resort, hotel, chef and restaurant uniforms as well as alumni chef jackets for the Culinary Institute of America. Each garment can be personalized with the customer's choice of fabric, pockets, buttons, piping and embroidery.
With a design studio in New York City, (the fashion and gastronomic capital of the world) and a production facility in Utica, New York, they've garnered international brand name recognition as the maker of the "World's Highest Quality Chef Jackets™".
Promotional products, items, decorated apparel and accessories, such as; custom embroidered jackets, hats, polo shirts, fleece blankets, sweatshirt blankets, custom embroidered shirts, embroidered hoodies, embroidered fleece vests, embroidered golf shirts, custom t-shirts, tote bags, custom embroidered sweatshirts and aprons that can be customized with the following apparel decorating methods:
Embroidery
Tackle Twill
Appliqué
Direct to Garment Printing (DTG)
Sublimation
Custom lab coats uniforms and scrubs for nursing, medical, dental, scientific, engineering, technology & healthcare professionals.
Custom made apparel and accessories for men and women, including but not limited to: suits, shirts, Hawaiian shirts, pants, vests, dresses, skirts, gowns, jeans, boxer shorts, martial arts and yoga outfits.
Crooked Brook ships worldwide. Hours of operations are 7:00 a.m. to 7:00 p.m. EST, seven days a week. Reach them at (315) 733-1992 to learn more.