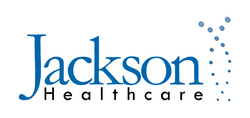 Atlanta's Best Places to Work
Alpharetta, Ga. (Vocus) October 30, 2008
Atlanta Business Chronicle has named Jackson Healthcare (JH) one of "Atlanta's Best Places to Work" for 2008, based on responses to an independent employee satisfaction survey. The healthcare staffing and technology company ranked seventh among 20 medium-size companies (101-500 employees), according to the weekly newspaper's September 26-October 2, 2008 issue.
The employee surveys were conducted for Atlanta Business Chronicle during the months of July and August by Quantum Market Research (QMR) of Wichita, Kansas. Ten large companies (501+ employees) and 20 small companies (10-100 employees) also made the list from among more than 300 companies applying.
"We are in the people business, and I recognize that our greatest assets walk out the door every evening," Jackson Healthcare Chief Executive Officer Richard L. Jackson said. "We try to recruit the best people and then create an environment that encourages associates to be the best that they can be, and so far that has worked well for us. In fact a significant number of our associates have been referred by other Jackson associates."
Atlanta Business Chronicle honored A+ Employer representatives with a breakfast in the Oceans Ballroom of the Georgia Aquarium on Friday, September 26, 2008.
Making the List
Employees of nominated companies answered an online opinion survey conducted b QMR of Wichita, Kansas. To reach a 95-percent confidence level with a margin of error of plus or minus five percent, participating company employees had to respond in numbers proportional to their local employee base--from 85% of employees in companies of 50 employees or fewer to five percent of employees in companies with 5,000 or more employees. Fifty percent of employees in companies with 151 to 500 employees, including JH with approximately 400 Atlanta-based associates, had to log on and complete the survey for their employers to make the list.
Respondents answered questions covering 10 categories on a six-point scale from "strongly disagree" to "strongly agree." JH scored highest in the areas of "Trust in Senior Leaders" (94%), "Trust in Co-Workers" (94%) and "Retention Risk" (93%).
About Jackson Healthcare
Founded by healthcare pioneer Richard L. Jackson, Jackson Healthcare addresses the two biggest challenges facing healthcare today: finding the right people and delivering the right information at the right time. The JH family of companies provides clinician staffing, anesthesia management and healthcare information technology solutions proven to improve clinical and financial outcomes and increase operational efficiency.
With over 400 associates in Alpharetta, Ga., and a total of 600 nationally, JH serves more than three million patients in some 1,000 hospitals each year. With a 53-percent compound annual growth rate between its founding in 2000 and year-end 2007, the company ranked seventh on Atlanta Business Chronicle's "Pacesetters" list of Atlanta's fastest-growing companies in 2007 and 2008. JH was ranked the 5th largest Healthcare Staffing Company by Staffing Industry Analyst Report in October, 2008. JH also was named to the Inc. 500 list in 2004; to the Inc. 5000 in 2007 and 2008; and as one of "Atlanta's Best Places to Work" by the Atlanta Business Chronicle in 2007 and 2008. The firm's operating entities include: Jackson & Coker, Jackson Hospital Affiliates, Jackson Therapy Partners, LocumTenens.com, Parker Staffing Services, Patient Placement Systems, Premier Anesthesia, StatCom, and Travel Nurse Solutions.
Contact:
Bob Schlotman
(770) 643-5697
Info@jacksonhealthcare.com
http://www.jacksonhealthcare.com
###