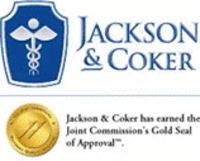 Dave has proven to be a very capable leader in our accounting and finance department, and his well-rounded abilities in other business areas should certainly contribute to notable success in his new role
Alpharetta, GA (Vocus) September 2, 2009
Jackson & Coker has named David Booher as Vice President of Jackson & Coker's Emergency Medicine division, effective August 15.
"Dave has proven to be a very capable leader in our accounting and finance department, and his well-rounded abilities in other business areas should certainly contribute to notable success in his new role," mentioned Jackson & Coker's president, Sandra Garrett.
"His keen eye for cost savings and maximizing return on investment will certainly translate into value-added service for our Emergency Medicine clients that face the challenge of maintaining cost efficiency when incorporating locum tenens coverage into their staffing model," she explained.
A native Floridian, Mr. Booher graduated from Florida State University in 1999 with a dual Bachelor of Administration degree in Accounting and Finance and obtained his CPA license in August 2000. His professional experience encompasses a wide variety of industries including insurance, manufacturing, healthcare staffing and Internet sales.
"Having worked in numerous industries, I have gained valuable insight and experience in not only the accounting aspect of business, but in the management of people as well as product and resources, data mining, operational reporting, and now sales management," Mr. Booher explained.
"I am particularly excited about the prospect of helping to expand our Emergency Medicine locum tenens service to our government and commercial clientele," he said. "The need for quality EM physicians is greater than it has ever been, and the challenge is to place the right provider with a given practice opportunity--something our team takes pride in achieving," he added.
"Our Emergency Medicine team looks forward to meeting and greeting many of our established clients at the American College of Emergency Physicians' convention in Boston October 5-8--while becoming acquainted with new prospective clients," Ms. Garrett noted.
More information concerning Jackson & Coker, including practice opportunities in Emergency Medicine, can be accessed at http://www.jacksoncoker.com.
About Jackson & Coker
Headquartered in metro Atlanta, Ga., Jackson & Coker is a leader in the physician recruitment industry. With over 31 years of continuous business operations, the firm has earned a reputation for providing cost-effective, time-sensitive staffing solutions to both government and commercial health care organizations. The firm has two divisions: Retained Search, which places physicians in over 40 medical specialties in permanent positions, and Locum Tenens, which fills temporary vacancies.
Jackson & Coker has earned a "Gold Seal" designation as a "Certified Health Care Staffing Service" by the Joint Commission (http://www.jointcommission.org) and is affiliated with a Credentials Verification Organization that has received certification by the National Committee for Quality Assurance (NCQA) in ten out of ten credentialing elements.
For more information:
Edward McEachern
Vice President
Jackson & Coker
800-272-2707
# # #