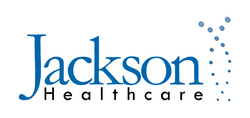 We feel we have the resources and management expertise to
Alpharetta, GA (Vocus) September 29, 2008
Jackson Healthcare (JH), an Atlanta based healthcare staffing and technology firm, has created a new hospital company. The purpose of the Jackson Hospital Affiliates is to acquire community hospitals and apply the firm's significant years of business management, healthcare staffing and technology experience to improve the care and delivery of healthcare in their respective locales.
The target market for of JH's operating companies is hospitals. After developing a business plan and consulting with the JH Board of Directors, the company decided to enter the hospital managing and ownership business. According the Richard L. Jackson, Chairman and CEO of Jackson Healthcare, "We feel we have the resources and management expertise to "make a difference" in the quality and delivery of healthcare in the communities served by our hospitals."
Gary Bell has joined Jackson Healthcare as President of the new Jackson Hospital Affiliates hospital business. In his new position, Gary will be responsible for identifying, purchasing and managing hospitals that will be acquired by the new company.
During his career, Gary spent 14 years as Senior Vice-President of Acquisitions with Health Management Associates (NYSE: HMA) acquiring 40 hospitals and also held the position of Chief Development Officer at MedCath Inc. (NASDAQ: MDTH). Jackson stated "Gary brings a wealth of hospital operations and acquisition experience working with community and investor-owned facilities as well as expertise in the areas of governmental regulations, business and medical staff development, project management and process improvement"." We believe the hiring of Gary will significantly accelerate our move into this new business opportunity for Jackson Healthcare."
With approximately 370 associates in Alpharetta, Ga., and 550 nationally, JH serves more than three million patients in some 1,000 hospitals each year. With a 53 percent compound annual growth rate between its founding in 2000 and year-end 2007, the company ranked seventh on Atlanta Business Chronicle's "Pacesetters" list of Atlanta's fastest-growing companies in April 2007. JH was also named to the Inc. 500 list in 2004 and Inc 5000 list for 2007 and 2008.
The firm's operating entities include LocumTenens.com, Premier Anesthesia, Jackson & Coker, Travel Nurse Solutions, Jackson Therapy Partners, StatCom and Patient Placement Systems.
Press Contact:
Bob Schlotman
BSchlotman @ jacksonhealthcare.com
770 643-5697
http://www.jacksonhealthcare.com
# # #