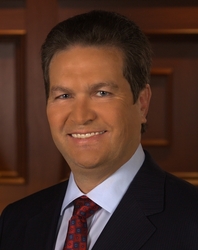 It is an honor to be recognized among Atlanta's healthcare leaders...I'm proud to be a part of an industry whose purpose is to serve others in times of need.
Alpharetta, GA (Vocus) February 5, 2010
Alpharetta-based Jackson Healthcare's Chairman and CEO, Richard L. Jackson, was named among the Atlanta Business Chronicle's top 100 people who lead Atlanta's healthcare industry.
"It is an honor to be recognized among Atlanta's healthcare leaders," says Jackson. "More than the individuals recognized, I think the Atlanta Business Chronicle's list speaks volumes about the quality and influence of Atlanta's healthcare institutions and innovators. I'm proud to be a part of an industry whose purpose is to serve others in times of need."
A child of Georgia's foster care system, Jackson set his sights on owning his own business at an early age. For the past 30 years, he has been instrumental in conceptualizing and developing more than 25 healthcare companies. His organization, Jackson Healthcare, continues to grow and garner recognition for its unique culture, business achievements and charitable activities.
Through his philanthropic arm, Jackson Healthcare Charities (JHC), Jackson has partnered with numerous nonprofit organizations in an effort to serve foster families, promote adoption and sponsor medical missions to underserved areas of the world. In 2009, JHC sponsored medical missions to Honduras and China.
"I believe the way you succeed is getting up one more time than you fall down," says Jackson. "It's not how you fall, but how you pick yourself back up that matters."
Jackson reports his focus in 2010 is helping hospitals across the nation share stories of how they benefit their communities through education, screenings and free medical services.
"Our hospitals have amazing stories of giving that the public is not aware of," says Jackson. "It's time to change that."
ABOUT JACKSON HEALTHCARE—Founded by healthcare innovator Richard L. Jackson, Jackson Healthcare addresses the two largest challenges facing healthcare today: finding the right people and delivering the right information at the right time. The Jackson family of companies provides clinician staffing, anesthesia management, hospital management and healthcare information technology solutions proven to improve clinical and financial outcomes, as well as increase operational efficiency. Jackson serves more than three million patients in nearly one thousand hospitals each year. With a 43 percent compound annual growth rate in revenue between 2005 and 2008, Jackson was named among the "Fastest Growing Private Companies" by Inc. 5000. In addition, Jackson has been recognized as one of the "Largest and Fastest Growing Staffing Companies," in the country by Staffing Industry Analysts and "One of Atlanta's Best Places to Work" by the Atlanta Business Chronicle. For more information about Jackson and its companies, visit their website at JacksonHealthcare.com. For more information on Jackson's healthcare charities, visit the JacksonHealthcare.com website.
CONTACT:
Keith Jennings
Jackson Healthcare
678.690.7942
###