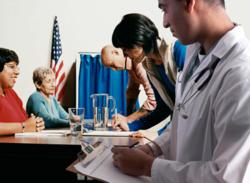 Doctors are highly motivated this year to have their voice heard, particularly after passage of the Affordable Care Act. -- Sandy Garrett, President, Jackson & Coker
Atlanta, GA (PRWEB) October 01, 2012
A new survey of physicians shows that if the Presidential election were held today, 55 percent would vote for Mitt Romney and 36 percent would support President Obama, according to a survey conducted by Jackson & Coker, a division of Jackson Healthcare, the third largest healthcare staffing company in the US.
The physician survey showed that five percent of doctors said they were undecided and the rest said they would support another candidate or were not planning to vote.
The late September survey included 3,660 doctors nationwide in 50 states. The physicians identified themselves as 24 percent Democrat; 35 percent Republican; 26 percent Independent; 6 percent Libertarian; and 7 percent unaffiliated.
Among doctors more likely to support President Obama were women as well as physicians employed by hospitals and health systems. Specialists, primarily psychiatrists, pediatricians and addiction medicine physicians also were more likely to support Obama. Male doctors and those with their own practice or who had a stake in their own practice as well as anesthesiologists, surgeons, radiologists and ophthalmologists were more likely to support Romney.
The President's support has waned among physicians since 2008 when he drew 40 percent of their vote compared to 44 percent for John McCain.
Turnout among physicians is also likely to increase compared to 2008, as eight percent reported they didn't vote in 2008, yet only 1 percent of doctors said they would not cast a ballot in the November Presidential election.
"Doctors are highly motivated this year to have their voice heard, particularly after passage of the Affordable Care Act," said Sandy Garrett, president of Jackson & Coker. "No doubt, the health care law has stirred many passions in the medical community."
When asked how they felt about the Affordable Care Act, 55 percent said "repeal and replace" the new law while 40 percent said "implement and improve" the ACA.
Fifteen percent of doctors reported they were switching their votes from Obama in 2008 to Romney in 2012. Among the top reasons why physicians said they were switching their votes:

The Affordable Care Act drew the most responses – and its lack of addressing tort reform.
Leadership style.
Lack of follow through on campaign promises.
The economy/unemployment/not better off
"Physicians say they want a President who will address their concerns about their ability to practice medicine," Garrett added. "They want a leader who engages doctors in finding a solution to healthcare reform."
To learn more about the survey go to: http://www.jacksoncoker.com/physician-career-resources/newsletters/monthlymain/des/PresidentialPoll.aspx
For more information, contact Ed McEachern at 800-272-2707 or emceachern (at) jacksoncoker (dot) com.
Survey Methodology
This survey was conducted online from September 11 to September 28, 2012. A total of 3,660 respondents completed the survey. The error range for this survey at the 95 percent confidence level is +/- 1.6 percent.
About Jackson & Coker
Jackson & Coker, a prominent physician staffing firm, believes that all hospitals, clinics, physician practices, and patients should have access to a physician whether for a day, a lifetime, or any of life's changes in between. For over three decades, Jackson & Coker, a leader in locum tenens recruitment, has been uniting physicians and hospitals to ensure that all patients' needs are met by providing physicians for as little as a day and as long as a lifetime. The firm specializes in doctor opportunities for physicians at any stage of their professional career.
Headquartered in metro Atlanta and part of the Jackson Healthcare family of companies, the physician recruitment firm has earned a reputation for placing exceptionally qualified candidates in commercial and government practice opportunities. Recruiters work in two divisions of the company: Permanent placement, which recruits providers in over 40 medical specialties for permanent physician jobs, and locum tenens, a staffing model that recruits medical providers (physicians and CRNAs) for temporary vacancies.