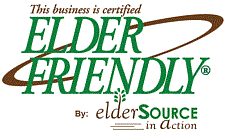 Jacksonville, FL (PRWEB) May 09, 2013
Dr. Rosann W. Faull's office of Audiology and Hearing Services in Jacksonville, FL has achieved the maximum possible assessment score from Eldersource in Action and earned the distinction of being certified Elder Friendly. According to Eldersource in Action, Audiology and Hearing Services passed with flying colors earning 5 out of 5 on their telephone service, website, and site assessment. Dr. Rosann Faull and all of the staff are extremely proud of this distinction. Understanding that hearing aids are a major investment, they hope that it will put prospective patients at ease, that they can trust Audiology and Hearing Services to provide the highest quality advice and information about hearing aids in Jacksonville, FL.
ElderSource is a private, not for profit, independent agency that is part of a nation-wide network of over 650 Area Agencies on Aging. The mission of ElderSource is to empower individuals to age with independence and dignity by providing leadership direction, advocacy and support for a comprehensive, coordinated continuum of care. ElderSource serves as the focal point to which elders, their caregivers and the general public can turn for information, referral, assistance and answers related to aging issues.
About Dr. Rosann Faull
Dr. Rosann Faull is an expert in audiometric testing and digital hearing aid technology for all ages. She received her B.S. in Communication Disorders from Northern Illinois University, M.A. in Audiology from Northern Illinois University, and her Au.D. from the Arizona School of Health Sciences. She is Board Certified in Audiology and a member of the American Speech-Language Hearing Association, American Academy of Audiology, American Board of Audiology and Florida Academy of Audiology.
About Audiology and Hearing Aid Services
Audiology and Hearing Aid Services has been serving the Jacksonville FL area since 1983 and is known for its commitment to innovation and excellent patient care and communication. Audiology and Hearing Aid Services is a full service audiology office offering digital hearing aids, hearing aid modification and programming, verification of hearing aid benefits using real speech mapping, blue tooth enabled hearing aids, cochlear implants, tinnitus evaluation and treatment and more. Audiology and Hearing Aid Services is located in the Mandarin neighborhood of Jacksonville. More information about Jacksonville FL hearing aids is available on the website and YouTube channel.
Contact:
Dr. Rosann Faull
http://drfaull.com
Audiology and Hearing Aid Services
12276 San Jose Boulevard #710
Jacksonville, FL 32223
(904) 685-1394