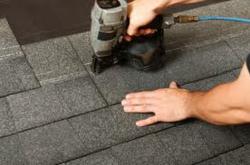 The Roof Link website is helping to shorten the length of time that contractors can respond to damage reports or new roof installation requests.
Jacksonville, Florida (PRWEB) October 08, 2012
Jacksonville, Florida roofing contractors from Roof Link Inc. are now available to offer same day repair assessments for homeowners and business owners. This new business offering is designed to help citizens in North Florida obtain roofing services much faster during and after the hurricane season is over. Roof Link Inc. contractors are licensed in the state of Florida to perform both residential and commercial roofing repair and replacement services. A same day assessment request can now be submitted online through the Roof Link Inc. website at http://www.roofingjacksonvilleflorida.com.
The period of time that takes place after damage happens and when it is assessed can be short or long. Not every insurance company has the manpower to respond as fast as home and business owners would like. For those without insurance, fixing a roof or re-roofing a new one as fast as possible is typically a top priority.
The Roof Link website is helping to shorten the length of time that contractors can respond to damage reports or new roof installation requests. The talented contractors that are dispatched through Roof Link now have the capability to arrive faster and assess damage thoroughly to expedite roofing repair and related services.
Roofing materials are often created by third party companies that do not employ teams of contractors. Research and development programs are typically created to obtain knowledge from roofers as well as homeowners when materials are manufactured.
Companies like Owens Corning that produce hurricane proof shingles can often take years to develop the right mixture of protection versus cost value. One of the ways that Roof Link Inc. remains as a consistent provider for 21st century roof coverings is by offering materials produced by Owens Corning and other manufacturers that currently have the highest wind ratings for wind and water damage on the market.
The asphalt shingle industry now has new competition in the form of flat roof materials. While asphalt shingle ruled much of the 20th century, the 21st century has materials like metal, rubber and turf that are offered as alternatives to asphalt shingles. The use of the flat roof system is one way that efficiency can be improved inside of homes and businesses. Flat roof repair is a secondary service that is now offered by Roof Link through its network of licensed roofing contractors in North Florida.
Homeowners or business owners that would like to submit a same day roofing repair or replacement assessment request can do so by making contract with Roof Link at the following address:
Roof Link Inc.
2730 Isabella Blvd.
Suite 50
Jacksonville Beach, FL 32250
(904) 900-2801
http://www.roofingjacksonvilleflorida.com/contact
About Roof Link Inc.
By dispatching talented and licensed contractors in North Florida, Roof Link Inc. has quickly grown into one of the most trafficked roofing websites currently online. Hundreds of website visitors browse through informative blog posts, read industry related news and access the new and improved online quote system from the Roof Link Inc. website. By working with a staff of talented contractors, Roof Link is able to provide same day services to homeowners and business owners in North Florida that require roof repair or roof replacement services. Roof Link is based in Jacksonville Beach, FL.