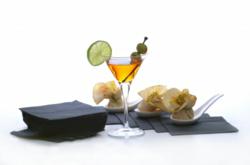 The steak and seafood that is offered to guests is expertly prepared fresh daily.
Jacksonville, Florida (PRWEB) January 21, 2013
LeGrand's Steak and Seafood is one of the newest attractions in the Jacksonville, FL area. The popularity and public demand has helped this restaurant to create a new incentive for its guests. Jacksonville happy hour specials are now available daily from open until seven p.m. These specials include a private selection of wines and a food menu created specifically with happy hour pricing. More information can be obtained online at http://legrandssteakandseafood.com.
Some restaurants plan special pricing incentives to match specific sporting events or holidays to provide cost savings to the general public. Both large and small parties can often take advantage of the offers that are available for food and drinks. One of the ways that LeGrand's is setting a new trend is by listening to the requests from guests and its talented staff. New food items have recently been added to the menu that have helped this restaurant provide more value apart from special incentives or one-time offers.
The $14.95 all you can eat shrimp on Wednesday evenings is one of the new additions to this restaurant. The plump shrimp that are offered for each paid guest is one of the ways this seafood restaurant has achieved recent press in the Jacksonville area. Reviews on popular travel websites and restaurant directories are now introducing some of the incentives that are offered at LeGrand's.
The steak and seafood that is offered to guests is expertly prepared fresh daily and guests are encouraged to select the temperature for each steak that is ordered as an entree. The variety in size of each steak and the amount of fresh seafood that is available has helped this restaurant to grow rapidly in the local area. With new menu items added and incentives provided regularly, guests visiting LeGrand's now have more ways than one to achieve a pleasurable culinary experience for an affordable price.
Direct contact with this restaurant or media inquiries can be made through Tish Hill by using the following information:
LeGrand's Steak and Seafood Restaurant
11290 Old St. Augustine Road
Jacksonville, FL 32257
(904) 268-3663
About LeGrand's Steak and Seafood
LeGrand'sSteak and Seafood was launched in mid 2012 just south of the city of Jacksonville in Mandarin. This exclusive location has helped this company to quickly earn a following of local guests who frequent this restaurant on a daily basis. By creating a comprehensive menu, multiple food options are available to provide a memorable dining experience. LeGrand's Steak and Seafood provides a family-friendly atmosphere and is open every day of the week to ensure that all can guests sample the world class cuisine now offered.