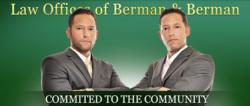 Contact the Berman Law Group Personal Inury Lawyers serving Jacksonville 1-877-529-8995
Jacksonville, FL (PRWEB) April 26, 2013
The Berman Law Firm now offers legal services for the Jacksonville, Florida, area. Qualified legal consultants are on hand to address any and all issues a citizen of Jacksonville may have. They provide experienced legal representation in various fields, including but not limited to, personal injury and auto accident claims.
The Berman Law Firm, goes to bat for justice for any potential client affected by these scenarios. They are committed to the people of the state of Jacksonville, Florida, and pursue any and all avenues, to achieve justice. They are dedicated to meeting their clients' individual needs, by handling each and every case as if it was going to trial. The goal of the Law Offices of Berman and Berman, is to ensure justice to all. Providing free consultation to the citizens of Jacksonville, Florida, opens doors to victims, that otherwise may have been misrepresented in an injury case.
The Berman Law Firm specializes in all facets of personal injury law, which includes the various possible claims clients' can file or the compensation that a victim or a loved one may be entitled to. , as well as dealing with insurance companies. The attorney's specialize in conquering major obstacles when pursuing their clients' needs. If a potential client has been harmed in an unfortunate personal injury accident, please give a call to the Berman Law Group at 1-877-529-8995. They are available 24 hours a day, seven days a week to assist potential clients with any questions they may have.
The Berman Law groups has the resources necessary to ensure that clients' receive the compensation that is due. Their extensive knowledge in the field of personal injury law, benefits their potential clients. Utilizing how much an injury is worth, gives them the expertise to ascertain a fair outcome for the victims of personal injury. They know the facts that increase or devalue a claim. Attorney's that are dedicated to their clients and their community, they continue to grow, in order to provide legal counsel for Jacksonville, Florida, as well as, offices conveniently located through the entire state.
To learn more about The Berman Law group, call them locally at (904) 207-7420or call their Florida hotline at 1-877-529-8995. Anyone interested can also visit their website at http://personalinjurylawyerjacksonvilleflorida.com/ to fill out the consultation form and get a call back to discuss their options for justice. They are Jacksonville personal injury lawyers.
Contact the Berman Law Group Today 1-877-529-8995