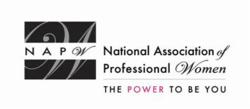 The Chapter welcomed five new members, making the February meeting the highest attended event since the formation of the Jacksonville Local Chapter.
Garden City, NY (PRWEB) February 22, 2012
NAPW Jacksonville Local Chapter gathered to celebrate Valentine's Day and hear from guest speaker, Pam Mullarkey, Ph.D., the founder of Project SOS. There were fourteen attendees including members and guests at the women's networking meeting.
"The Chapter welcomed five new members, making the February meeting the highest attended event since the formation of the Jacksonville Local Chapter," said Jenni. Once everyone had been served, introductions were held to benefit the five new women present.
Jenni Edwards, Jacksonville Chapter President, welcomed those in attendance and handed out special Valentine's Day gift bags for everyone. The meeting was accented by a potluck dinner, which was a well coordinated effort by NAPW Member Cheri Jones.
Jenni got down to business and reminded the group there was still a need to fill the board positions of Vice President of Total You and Vice President of Hospitality and Outreach. NAPW Member Sandi Capra-Carpenter, with On The Go Ads, volunteered and accepted the role of Vice President of Hospitality and Outreach for the Jacksonville Chapter.
The group then discussed the meeting calendar for the next few months. The focus of the meeting on March 12th will be technology. The main discussion will revolve around creating a Facebook page and navigating the NAPW website. Cheri Jones, Leah Zimmer, and Jenni Edwards will present topics and lead the discussions.
"The April 9th meeting will feature guest speaker Steve Black's Business Building Workshop. All are encouraged to attend, as well as bring guests, as this will surely be useful information," Jenni said.
May 18th is the date of the NAPW National Conference in New York City. Those who plan to attend should reserve their spots soon, because the meeting fills up quickly. Since the NAPW National Conference is the same week as the Jacksonville Local Chapter meeting, no chapter meeting will be held in May.
Vice President of Charitable Acts, Shana Herrin, updated the group on upcoming events and fundraisers. She and Jenni were involved in the 26.2 mile race with Donna National Marathon to Finish Breast Cancer. Shana has found various charitable organizations in which the chapter will be involved. The group acknowledged that, while not all members will be available to participate in all charitable functions, it is beneficial to offer a variety of events in which members may choose to be involved.
There are events in the near future benefitting a number of charities including The Women's Center of Jacksonville, Project SOS, Pawfessionals, and Foster Closet. The group is planning a walk in March benefitting Sulzbacher Center and a run for Hubbard House. Several members suggested creating something NAPW participants can wear when participating in charity events. Shana agreed to design a T-shirt for this purpose and will relay pricing at the next meeting. The Chapter will review the design and submit to NAPW National for approval.
Shana then introduced Pam Mullarkey, Ph.D., the guest speaker for the evening. Pam is the founder of Project SOS, which stands for Strengthening Our Students. She has a long history of being involved with her community and helping youth, and was inspired to start Project SOS in 1993 when she realized there was the need for an organization to help teens deal with issues like sex, drugs, alcohol, and suicide. She had witnessed too many "smart teenagers make big mistakes" because they were faced with scenarios they weren't prepared to deal with, and too many parents who weren't even aware of the issues facing their teenage children. Project SOS helps 10,000+ Jacksonville teens, grades 7-12, annually.
"They are holding a fundraiser featuring illusionist Jeff Edmonds on March 10th at 6:00pm at the Sawgrass Marriott in Ponte Vedra Beach. This group will be our main charitable act focus for the year," said Jenni.
The meeting closed with a gift basket drawing. The basket included skin care products provided by Marcela Marabelli of Tropicaderm, and Valentine's Day treats. Each person in attendance received a gift bag with a sample size lotion, and Leah Zimmer was the lucky winner of the basket. Everyone in attendance also received a long-stemmed, red rose courtesy of Pam Mullarkey, Ph.D.
The next meeting of the Jacksonville Local Chapter will be on Monday March 12th, 2012 at 6:30pm at Stellar, 2900 Hartley Road, Jacksonville.
The National Association of Professional Women (NAPW) is the largest and most recognized network of female professionals. NAPW provides a forum where women can interact, exchange ideas, educate, network, and empower. NAPW Local Chapters allow members to maximize their experience through meetings, networking opportunities, and professional events.
For additional information regarding the NAPW Jacksonville Local Chapter and/or NAPW please visit http://www.napw.com.
Follow NAPW on Facebook and Twitter.
###