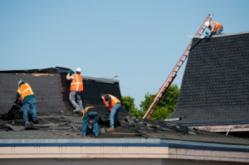 When it comes to Commercial Roofing, We're on Top!
Jacksonville, FL (PRWEB) October 04, 2012
This Jacksonville Commercial Roofing Company can accommodate all types of commercial roofing needs. JCRR is a fully licensed and insured commercial roofing contractor in the Jacksonville, Florida and surrounding area.
Striving to provide clients and customers with 100% satisfaction in every job undertaken and completed, satisfaction the goal. Be pleasantly pleased by the attention to detail, dependability, professionalism and affordable pricing Commercial Roofing Company provides.
Systems completed by our commercial roofing contractors:
-Asphalt shingles
-Wood shingles and shakes
-Clay & Concrete Tiles
-Slate
-Metal (steel, aluminum, tile and copper)
-Fiber Cement
-Synthetic
-Built-up roof (BUR) membranes
-Metal panel roof systems for low-slope applications
-Polymer-modified bitumen sheet membranes
-Single-ply membranes

Thermoplastic membranes (e.g., PVC, TPO)
Thermoset membranes (e.g., EPDM)
-Spray polyurethane foam-based (SPF) roof systems
Commercial Roofing Services Provided:
-Storm Damage/Insurance Claims
-Roof Repair
-New Roof Installation
-New Construction
Types of Structures:
-Schools
-Hospitals
-Government Buildings
-Apartments
-Industrial Complexes
-Warehouses
-Medical Complexes
and many more…
Choosing a commercial roofing contractor can be a daunting task. Enjoy the freedom of letting the service professionals take the worry out of the way. Don't let this offer pass you by. Take advantage of this free inspection today.