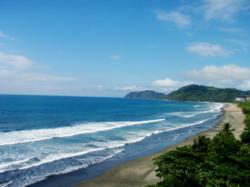 Why stay in a hotel when you can stay in an award-winning oceanfront luxury condo from LuxuryJacoRentals.com?
Jaco Beach, Costa Rica (PRWEB) December 13, 2011
Vista Las Palmas, where LuxuryJacoRentals.com currently features two oceanfront end units for long or short-term lease, recently won first place in the "International Architectural Design Competition" for Costa Rica, and was also awarded third place in the Worldwide Competition. The international accreditation has launched Vista Las Palmas and Jaco Beach to the top of the list of most desirable vacation destinations.
LuxuryJacoRentals.com is ensuring the most competitive prices for one of the world's finest architectural sites, and the undisputed finest beachfront condo building in Costa Rica. The recent architectural awards and improvement in local infrastructure have led to Jaco Beach's ever-increasing popularity as an internationally recognized top tourist destination. Vista Las Palmas and Vista Mar provide the ideal total vacation experience in this popular, beautiful, safe, and tourist-friendly town. The beachfront properties are situated strategically in the center of town, within easy walking distance to over fifty restaurants as well as supermarkets, bakeries, banks, drug stores, movie theatres, spas, shopping opportunities, and countless tourist attractions and activities. The 2011 high season is expected to surpass the tourist appeal of even recent successful seasons, drawing visitors from all over the world.
LuxuryJacoRentals.com has also received "excellent" rating status from Trip Advisor and Flip Key, after receiving overwhelmingly positive feedback and five star ratings from satisfied clients. Luxury Jaco Rentals is a privately owned company, offering personal service and extra attention to every detail. As guests have happily noted in their trip reviews, these accommodations are the epitome of luxury and class. All units are appointed with Wi-Fi internet, full gourmet kitchens, wrap-around balconies, large open rooms tastefully decorated with all the comforts of home, and include integrated indoor/outdoor relaxation areas offering breathtaking views. Both Vista Las Palmas and Vista Mar are ideally situated near all of Jaco's attractions and activities. They are located conveniently close to the world-renowned Manuel Antonio State Park, one of the finest examples of a natural rain forest park in Costa Rica. Although Costa Rica in general is known for it's beautiful Rain Forests, this unique park is one of the most popular in the region. It is home to a stunning array of beautiful and endangered flora, fauna, and wildlife. Mt Arenal Volcano, the only live volcano in Costa Rica and a world famous tourist destination, is also a short trip away. Detailed information about the full range of services available at these new locations can easily be found on the LuxuryJacoRentals.com website.
LuxuryJacoRentals.com has announced a new pricing scale for the 2011-2012 high season, which includes heavy discounts for weekly and monthly reservations. The Jaco Beach peak tourist season is December 15th through May 31st. When compared to other luxury rental units in the area, even inferior units in less desirable buildings are often priced $1,000 more per week than the new package deals offered by LuxuryJacoRentals.com. In order to ensure a full rental schedule for the season, LuxuryJacoRentals.com is now accepting discounted reservations for luxury beachfront rental units at Vista Las Palmas and Vista Mar. Discount packages include one night free when booking for one week, and an exceptional ten nights free when booking for one month. Additionally, the prime location of both Vista Las Palmas and Vista Mar means that visitors do not need a rental car in order to access the sights, restaurants, entertainments, and attractions of the Jaco Beach area. This translates into additional savings with the added benefit of reducing stress and inconvenience.
Another important note, Luxury Jaco Rentals does not charge any additional taxes, fees, or hidden charges. Most luxury rental companies in the area are notorious for adding hundreds of dollars in hidden fees and taxes. The honest, upfront business practices and personalized care offered by Luxury Jaco Rentals, combined with the premier, ideally located and luxuriously appointed accommodations offered at Vista Las Palmas and Vista Mar, have all contributed to the "Excellent" rating LuxuryJacoRentals.com has achieved from Trip Advisor and Flip Key, through the overwhelmingly positive feedback from satisfied customers.
The award-winning luxury oceanfront units offered by Luxury Jaco Rentals at Vista Las Palmas and Vista Mar are expected to be fully booked for the high season and space will be reserved on a first come, first served basis. For more information call 248-504-1173 or visit the Luxury Jaco Rentals online contact form to book a reservation today.
###