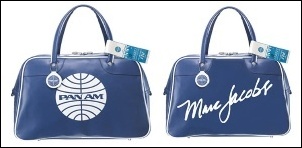 NEW YORK (PRWEB) June 11, 2007
Recently, Marc Jacobs has embraced the Pan Am retro history by applying his trademark signature to the Pan Am bag, the Explorer. Pan Am's Explorer bag, which is available in colors, Vintage White and Pan Am Blue (Navy), now has Marc Jacobs' name across the reverse side. The bag has been so successful that Marc Jacobs will now carry a new Pan Am/Marc Jacobs bag, the Innovator, another travel bag that is reminiscent of Pan Am's 80-year history. These limited edition handbags are sold in Marc by Marc Jacobs stores internationally.
Pan Am launched in 2006 and pays homage to the original Pan Am cabin bag. The company that caught the eye of many in the 1950's and 1960's and invented the "jet-setter" will be proudly represented through a series of cabin bags that replicate the originals. Produced with an outer shell of PVC, these first class designs will serve to remind past and present generations of the first airline to offer luxury through both domestic and international travel. Pan Am's line of Retro Bags and apparel are being sold in stores such as Atrium, LuLu (Miami), Marchand De Legumes (New York & Japan), In-jean-ious (San Francisco), Fusion (Philadelphia), EMODA.com, Bauhaus (Hong Kong), Wear Me Out (NYC), Distant Lands Pasadena (CA), and Fred Segal (Santa Monica).
For more information on Pan Am or the limited edition Marc Jacobs/Pan Am bag, visit http://www.panamone.com and http://www.sonobipr.com or contact Laura Salerno at (212) 391-9130 or [email protected]