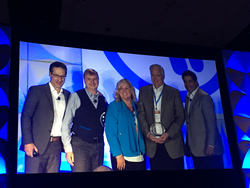 We are proud to be recognized by FinancialForce.com three years in a row.
IRVINE, Calif (PRWEB) May 12, 2016
Jacobus Consulting, a nationwide healthcare consulting firm that partners with providers to continually improve the quality of patient care, optimize operations, and improve financial performance, has been recognized as the winner in Exemplary Use of Platform in FinancialForce's fourth annual 360 Customer Excellence Awards. The awards recognized outstanding customer achievements across all FinancialForce solution lines as well as Best Customer Experience, Exemplary use of Platform and Community Champion of the Year categories.
Jacobus Consulting was honored on May 11, 2016, at Community Live in Las Vegas, the company's fourth annual and largest customer conference to date.
Exemplary Use of Platform recognizes customers who have demonstrated use of two or more FinancialForce solutions and a strong belief in how multi­app usage is a game­changer for the success of their business. Winners will include those who have a vision for leveraging applications across the Salesforce Platform to underpin the future of their work. Judges selected Jacobus Consulting, an organization dedicated to advancing the mission of healthcare by supporting providers with strategic advisory and information technology services, for proving how a single cloud, especially via the Salesforce Platform, is better for customers, better for employees, better for leaders and better for IT. Jacobus uses all FinancialForce ERP applications.
"We are proud to be recognized by FinancialForce.com three years in a row as the first and only healthcare services company to win significant awards in the Financial Management, Best ERP Vision, and Exemplary Use of Platform categories," said Alan Hall, SVP, Information Technology and Operations, Jacobus Consulting. "Through the unified applications on the Salesforce1 Platform, we are able to empower healthcare providers with the ability to transform their care to be patient-centric, especially as consumerism and a person's health journey shape the demands of our industry."
"Congratulations to Jacobus Consulting and all of this year's 360 Customer Excellence Award winners and finalists," said Adrian Ivanov, Chief Customer Officer at FinancialForce. "Hearing the big picture visions and successful implementation stories from customers worldwide throughout the awards process has been inspiring. All of us at FinancialForce are humbled by the dedication our customers have to improving how they better serve their customers, and I myself am energized to continue to deliver ERP applications that will help our customers be the best in their fields."
About Jacobus Consulting
Jacobus Consulting is dedicated to advancing the mission of healthcare providers through strategic advisory and information technology professional services in support of the patient continuum of care, revenue cycle and the journey to value-based healthcare. Our insightful, adaptable professionals engage through systems expertise, process proficiency, and workforce transformation to ensure that healthcare providers realize continued excellence in patient care, optimized operations, and improved financial performance.
About FinancialForce
Founded in 2009, ​FinancialForce is the leading Cloud ERP vendor ​with apps built entirely on the Salesforce Platform(™). The company's ​Financial Management, Professional Services Automation (PSA), and Human Capital Management (HCM) offerings provide services-centric businesses with a platform that organizes sales, services, finance and HR entirely around their customers.​ ​Headquartered in San Francisco​, FinancialForce is backed by Salesforce Ventures, Technology Crossover Ventures, Advent International and UNIT4. For more information, visit http://www.financialforce.com or read more here: http://www.financialforce.com/about/press-center/release/financialforce-announces-2016-winners-of-360-customer-excellence-awards