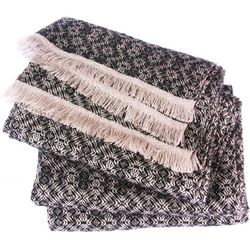 We are staring with basic pure cashmere black and off white 12
Houston, TX (PRWEB) September 25, 2009
The Pashmina Store, an online retailer offering luxury cashmere products at value prices, announced that it has introduced a new line of pure cashmere fashion design scarves in the popular jacquard and houndstooth weaves. The Company is celebrating the new products by offering 10% off on any website order of $40.00 or more. To get the special discount, online shoppers ordering $40.00 or more simply need to use the coupon code 'SAVE10'. The promotion is valid through October 31, 2009.
"Jacquard and houndstooth are classic designs that never go out of style," said Nattakitta Rhodes, Vice-President of Design for The Pashmina Store. "We are staring with basic pure cashmere black and off white 12"x70" scarves to introduce our customers to the elegance and beauty of these designs. Based on customer feedback, we will be adding new colors and sizes over time. Best of all, our value price for these scarves will be only $49.99"
For customers who wish to receive the discount, shop online at the stores' website located at http://www.thepashminastore.com. If your order is for $40.00 or more, simply enter the coupon code 'SAVE10' and press Apply for the automatic 10% discount. This offer is good through midnight central time on October 31, 2009.
About The Pashmina Store:
On the Web since 2001, The Pashmina Store has been proud to offer the finest quality pure pashmina and pashmina/silk blend blankets, shawls, wraps, scarves and cashmere blankets. Customers enjoy the entire experience with quality products at exceptional values, free standard shipping in the U.S from Texas, and a satisfaction guarantee.
Contact:
Grant Landis
Publicist
909-657-1357
###